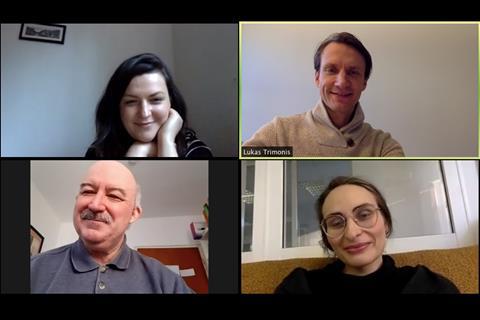 Lithuanian filmmaker Eglė Vertelytė has revealed plans to begin shooting her second feature Tasty in 2022, after winning Screen's Best Pitch Award at Tallinn's Baltic Event Co-Production Market.
The €720,000 ($855,000) comedy focuses on two best friends who work in a local canteen and enter a national TV cooking competition, which challenges not only their skills in the kitchen but also their friendship.
The project was pitched at the virtual event in November by Vertelytė with producer Lukas Trimonis and junior producer Viktorija Cook. It will be produced by the Vilnius-based production company Inscript and marks Vertelytė's second feature after tragicomedy Miracle, which premiered at Toronto in 2017 and was screened at 50 festivals worldwide.
"We are planning our shooting schedule for 2022, to have the film ready for release in 2023," said producer Trimonis.
"I have my eye on two young Lithuanian actresses for the leads of Ona and Saule," added Vertelytė, who said she has already held a number of casting sessions for the film. "They are both unknowns as far as the film industry is concerned."
Speaking about the upcoming project, the filmmaker said: "This setting [of a cooking competition] interests me because it allows me to talk about a subject that really concerns me – image creation. In our world, it's so difficult to succeed and do anything without creating a narrative and image about yourself. Moreover, social media and television encourage people to create these images."
"At the same time, I am keen on exploring female friendships, which are often like love stories and can be as rewarding as they are tantalising."
Gathering ingredients
Vertelytė wrote the first synopsis for Tasty in 2014 and worked intermittently on the screenplay for six years before bringing colleague Irena Kuneviciute on board as a co-screenwriter.
They presented their screenplay at the Midpoint Intensive Lithuania workshop in May 2019 along with producer Ieva Biliunaite of Vilnius-based production company Inscript.
The project had originally been developed for another filmmaker to direct, but Vertelytė then decided it would be her second feature as director after her internationally acclaimed debut Miracle.
"The Baltic Event was the first time that Tasty had been pitched to a wider international audience," said producer Trimonis.
"My initial idea was to co-produce with one of the other Baltic countries – Latvia or Estonia – but during our meetings at the Baltic Event, we met quite a few German producers who liked the concept of the cooking contest. They said this was very familiar to them and they also mentioned that the script had a kind of German humour. They wanted to see more."
"In our meetings with sales agents, I could see their excitement at the fact that Tasty is a genre film," said Viktorija Cook, a junior producer at Inscript who previously worked at UK sales agent Film Republic.
"The reaction in Tallinn was confirmation that distributors are looking for good quality comedies to show to their audiences, and Tasty has a message that could really travel."
The €720,000 ($855,000) project had already received €19,170 ($22,800) in support from the Lithuanian Film Centre (LFC) for development and was awarded production funding of €405,000 ($480,000) at the LFC's first funding session of 2021.
In addition, Inscript will tap into Lithuania's automatic tax incentive programme for the project and then close financing with contributions from co-producers.
Inscript rising
Vertelytė and Trimonis are both graduates of the UK's National Film and Television School (NFTS), and founded Inscript in 2013 to offer screenwriting services as well as develop and produce films for the national and international markets.
Trimonis, who was selected by European Film Promotion as Lithuania's Producer on the Move at 2018's Cannes Film Festival, served as the minority co-producer on Juris Kursietis' Oleg – a Latvia-Lithuania-Belgium-France co-production that premiered in Directors' Fortnight at Cannes in 2019.
Last year saw Inscript co-produce Finnish filmmaker Margus Paju's historical spy thriller 02 and shoot Irma Pužauskaitė's feature debut The 9th Step from a screenplay written by Vertelytė.
Past winners of Screen International's Best Pitch Award include Hamy Ramezan's feature debut Any Day Now, which received its international premiere at this year's Berlin International Film Festival, where it played in the Generation Kplus competition.