The 2018 Tallinn Black Nights Film Festival has named the winners of its Industry@Tallinn & Baltic Event awards after a week of presentations and meetings.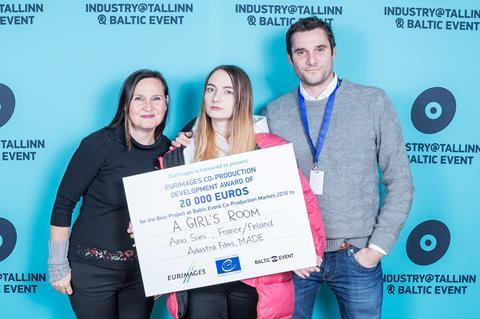 More than 400 delegates attended this year's event.
In the festival's Baltic Event Co-Production Market, which featured 16 projects, France-Finland feature A Girl's Room, from director Aino Suni and producers Sébastien Aubert and Ulla Simonen, won the €20,000 Eurimages Co-Production Development Award.
The Cannes Marché du Film Producers' Network Award, which comes with free accreditations to next year's edition of Cannes, went to Marianne Ostrat from Alexandra Film and Vladimer Chikhradze from 20 Steps Production.
The Screen International Best Pitch Award, offering coverage of the life-cycle of the winning film, went to Ramy Hamezan's project The Oasis Of Now, from producer Jussi Rantamäki of Aamu Film Company.
This year's jury in the co-pro market was Emma Scott, production and distribution manager, Screen Ireland; Jeremy Zelnik, head of industry, Les Arcs Film Festival; Giovanni Pompili, producer, Kino Produzioni, Italy.
Tallinn's Works in Progress strands saw seven projects compete. Silje Salomonsen and Arild Østin Ommundsen's project Sisters, from Norway, won the €2,000 International Works in Progress prize. Gary Cranner is producing through company Chezville.
The International Works in Progress award, worth €10,000 of post-production services, went to Evgeny Ruman's Golden Voices project from Israel. Producers are Avraham Pirchi, Chilik Michaeli and Eitan Even.
The region-specific Baltic Event Works in Progress featured 11 projects. The €3,000 Baltic Event Works in Progress Award went to J-P Valkeapää's Dogs Don't Wear Pants, from Finland and Latvia. Producers are Aleksi Bardy, Helen Vinogradov with co-producers Alise Gelze, Aija Berzina.
Miia Tervo's Finland project Aurora, produced by Max Malka of Dionysos Films, won the €2,000 Baltic View Award.
The work in progress jury was Tatiana Detlofson (Mediaplan, USA); Alena Shumakova (Quinzaine des Réalisateurs, France / Pingyao Crouching Tiger Hidden Dragon International Film Festival, China); and Alexandre Moreau (Memento Films International, France).
Finally, the festival's screenwriting initiative, Script Pool Tallinn, saw its top prize, the €5,000 Global Screen Award, go to Radu Romaniuc's Man Of Deeds, from Romania. Nicolae Constantin Tănase is directing the project, producers are Paul Negoescu and Anamaria Antoci for Papillon Film and Tangaj Production.
The Script Pool jury were Katharina Suckale (producer at Bombay Berlin Film Productions), Marcello Paolillo (Head Of Art Of Panic, Stepln project manager at Locarno Film Festival), and Julia Weber, (head of theatrical sales & acquisitions of Global Screen GmbH).