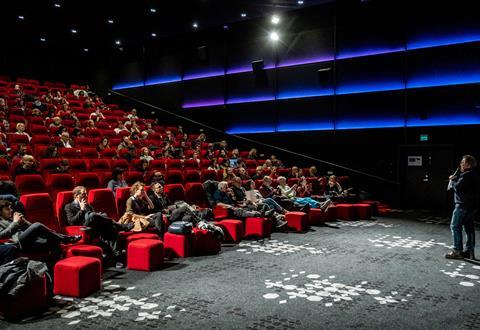 The projects selected for Tallinn Black Nights' industry showcase have been revealed, including a drama executive produced by Tim Roth and a new category for youth films.
Scroll down for full list of projects
This year's Industry@Tallinn and Baltic Event will spotlight 18 films seeking sales agents or festivals for international premieres during works in progress sessions in the Estonian capital from November 26-27.
Both the Baltic Event, showcasing Baltic and Finnish projects, and International Works in Progress will compete for the same awards this year: the Post Production Award worth €10,000 and the Baltic Event Works in Progress Award of €3,000.
The fifth International Works in Progress is comprised of eight projects and includes British dance drama Hilda, executive produced by The Hateful Eight star Tim Roth. Directed by Rishi Pelham, it is produced by London-based Odds On Productions.
Other titles include Swiss drama Hungry Saints, the first feature of award-winning shorts director Marc Wilkins, backed by producer Joël Jent (Iraqi Odyssey), and Turkish filmmaker Ferit Karahan's second feature Deskmate.
In addition, fresh from their success with System Crasher, German production company Weydemann Brothers will present their latest feature Schoko, from actress and director Sarah Blaßkiewitz.
The 17th Baltic Event Works in Progress will include 10 projects from the Baltics and Finland.
Among them are three projects from Estonia: Priit Pääsuke's youth comedy Kids of the Night that tells the story of three sisters over one fateful night; tragi-comic On the Water by veteran director Peeter Simm that focuses on the life of a preadolescent boy and his grandparents in small-town Soviet Estonia; and Margus Paju's O2, a spy thriller set in 1939, co-produced by Estonia, Finland, Latvia and Lithuania.
This year's industry event will also feature the launch of Just Film Works in Progress, focussing on film projects for children and young people, which will be held on November 26.
The inaugural selection comprises five projects stretching from Taiwan and Kosovo to Lithuania and Estonia, all of which will compete for a prize of €1,000 aimed at helping the film gain visibility by covering promotion and publicity costs.
The Just Film Youth and Children's Film Festival has run for nearly 20 years as a parallel event of Black Nights.
Baltic Event Works in Progress
Kids of the Night (Est)
Dir: Priit Pääsuke
Pro: Marianne Ostrat
O2 (Est-Fin-Lat-Lith)
Dir: Margus Paju
Pros: Esko Rips, Kristian Taska / Co-pros: Jukka Helle, Janis Kalejs, Lukas Trimonis
On the Water (Est)
Dir: Peeter Simm
Pro: Marju Lepp
In the Mirror (Lat-Lith)
Dir: Laila Pakalniņa
Pro: Laila Pakalniņa / Co-pro: Dagnė Vildžiūnaitė
The Pit (Lat)
Dir: Dace Pūce
Pros: Kristele Pudane, Elīna Zazerska
Where the Road Leads (Lat-Swe)
Dir: Matiss Kaza
Pros: Una Celma, Dace Siatkovska, Matiss Kaza / Co-pro: Zahavi Sanjavi
People We Know Are Confused (Lith)
Dir: Tomas Smulkis
Pro: Dagnė Vildžiūnaitė
Paralysis (Lith-Cze Rep)
Dir: Andrius Blaževičius
Pro: Marija Razgutė / Co-pro: Jakub Kostal
Eden (Fin)
Dir: Ulla Heikkilä
Pro: Miia Haavisto
Ladies of Steel (Fin)
Dir: Pamela Tola
Pros: Aleksi Bardy, Dome Karukoski, Sirkka Rautiainen
International Works in Progress
Deskmate (Turk-Rom)
Dir: Ferit Karahan
Pro: Kanat Doğramacı
Hungry Saints (Swi-US)
Dir: Marc Wilkins
Pro: Joël Jent
One Thousand and One (Arg)
Dir: Clarisa Navas
Pros: Diego Dubcovsky, Lucía Chávarri
French Braid (Arg)
Dir: Lucas Turturro
Pros: Victoria Aizenstat, Mauro Guevara
Schoko (Ger)
Dir: Sarah Blaßkiewitz
Pros: Milena Klemke, Yvonne Wellie, Jakob D. Weydemann, Jonas Weydemann
Hilda (UK)
Dir: Rishi Pelham
Pros: Nassim Mniai, Tomos Roberts
Far Frontiers (Rus-Kyr)
Dir: Maxim Dashkin
Pros: Denis Kovalevsky, Maxim Dashkin
Stand Up (Slo Rep)
Dir: Juraj Bohuš
Pro: Katarína Krnáčová
Just FIlm Works in Progress
Christmas in the Jungle (Lat-Est-Slo)
Dir: Jaak Kilmi
Pro: Roberts Vinovskis / Co-pros: Evelin Penttilä, Sinisa Jurcic
Family (Kos)
Dir: Durim Kryeziu
Pro: Durim Kryeziu / Co-pros: Bardhyl Bejtulahu, Hazir Sh. Haziri
Final Exam (Tai)
Dir: Chen-Ti Kuo
Pro: Gene Yao / Co-pro: Albert Yao
Raggie (Est-Den)
Dirs: Meelis Arulepp, Karsten Kiilerich
Pro: Kristel Tõldsepp / Co-pro: Anders Mastrup
Unknown Treasures (Lith)
Dir: Agnė Marcinkevičiūtė
Pros: Arūnas Stoškus, Kęstutis Petrulis