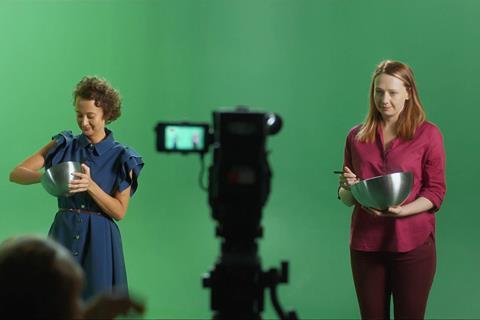 The industry platform of Tallinn Black Night Films Festival is to showcase seven projects seeking co-production partners at the Cannes market for the first time.
The Industry@Tallinn and Baltic Event Co-Production Market will spotlight the titles at the Marché's Co-Production Day on July 9, where projects in development – looking for co-producers and financiers – are presented in one-to-one meetings.
They include Estonian project Black Hole, written and directed by Moonika Siimets, whose Stalinist drama The Little Comrade won the audience award at South Korea's Busan International Film Festival in 2018.
Siimets' latest weaves together three comically absurd tales, reflecting on how people have lost the ability to connect with each other in the modern age. It is produced by Riina Sildos, whose latest production Compartment No. 6 has been selected to play in Competition at this year's Cannes.
The remaining six titles previously participated in the Baltic Event Co-Production Market at Tallinn 2020.
They include 8 Views of the Lake Biwa, an avant-garde drama blending Japanese and Estonian art traditions across eight intertwined love stories, written and directed by Marko Raat. It is produced by Ivo Felt and Dora Nedeczky of Estonia's Allfilm. Felt co-produced Zaza Urushadze's Oscar-nominated Tangerines in 2014; Tanel Toom's local box office hit Truth And Justice; and was a line producer on Christopher Nolan's Tenet.
Another project is culinary comedy Tasty, which marks the second feature of Lithuanian writer-director Egle Vertelyte and won Screen International's best pitch award at Tallinn's industry platform in November. Producer is by Lukas Trimonis of Lithuania's Inscript.
Marge Liiske, the head of Industry@Tallinn & Baltic Event, said of the selection: "Co-production is not always an easy road to travel, especially in the post-Covid world, where the cross-border shooting can be difficult, but each and every one of the projects we have chosen to bring with us to Cannes has the potential and artistic merit to really flourish on the international stage."
Baltic Event projects at Cannes Co-Production Day
8 Views of the Lake Biwa (Est)
Dir: Marko Raat
Pros: Ivo Felt, Dora Nedeczky (Allfilm)
Aliya (Isr-Rus)
Dir: Dekel Berenson
Pro: Marek Rozenbaum (Transfax Film Productions, AR Content)
Black Hole (Est)
Dir: Moonika Siimets
Pro: Riina Sildos (Amrion)
Spilt Milk (Ire)
Dir: Brian Durnin
Pro: Laura McNicholas (925 Productions)
Kevlar Soul (Swe)
Dir: Maria Eriksson-Hecht
Pro: Ronny Fritsche (Zentropa)
Maria's Silence (Lat)
Dir: Dāvis Sīmanis
Pro: Gints Grūbe Mistrus Media)
Tasty (Lith)
Dir: Egle Vertelyte
Pro: Lukas Trimonis (Inscript)