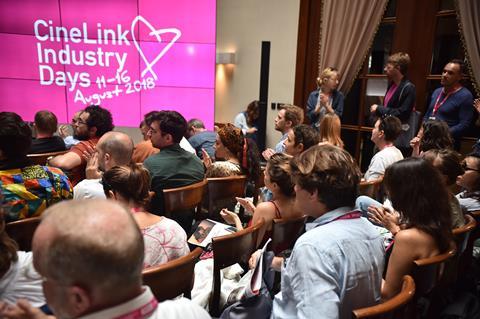 The third edition of CineLink Drama, Sarajevo Film Festival's platform for development of high quality TV drama series from Southeast Europe, held its public pitching of projects at the festival's industry hub Hotel Europe on Aug 15.
The event presented four projects developed through CineLink Drama, and another five from MIDPOINT TV Launch, while one project, Anatomy of a Crime, is taking part in both programmes.
Scroll down for full list of projects
In the CineLink Drama section, which took the first half of the presentation, one of the projects that stood out for industry professionals in the audience was Serbian period series Bad Blood, based on a classic novel by Bora Stanković and created and directed by Milutin Petrović. Set in mid-19th century, it is a story of Trifun, a wealthy Christian minority leader in the Turkish Empire who tries to preserve the independence of his people and the reputation of his family and sets off a chain of events resulting in a tragic multi-generational family saga.
"In general I'm really pleasantly surprised with the overall quality of the projects from this region," Slovak producer Peter Badač told Screen. "I especially like the projects that were presented in a simple and straight-forward way, like Bad Blood, which seems to give a very clear historical picture."
Badač also enjoyed the presentation of Serbian-German project TURBO from the MIDPOINT section. The 8x50' series is set in Belgrade in 1991, when the city was ruled by criminal gangs and the war in Croatia and breakdown of Yugoslavia were imminent. Producer Milan Stojanović, co-writer and co-producer Matthias Nerlich, and co-writers Milica Živanović and Boris Grgurović surprised the attendees by placing models impersonating their protagonists in the audience, and when they described the characters, three men stood up, striking tough guy poses.
But the show was stolen by the Bosnian director Srdjan Vuletić, known for Rotterdam prizewinner Summer in the Golden Valley. His drama/comedy project Frust is a story of an introvert young writer whose unassuming life changes when he accidentally kills a drug dealer, becomes a local hero and decides to clean the crime out of the city. Vuletić has no production company nor director attached. "Although I am a director, even I am not attached to this project," he said to laughter from the audience.
"I quite liked Frust, I thought it was a funny presentation, and despite the humour it was the clearest about what the story is going to be," ZDF/Arte head Meinholf Zurhorst commented for Screen. "Many other projects struggled because of the fact that they have too many characters and didn't really present the storyline in a simple way. Maybe that's why Frust seemed the most accessible."
Former head of the German MDM fund Manfred Schmidt agrees: "Some people are better trained to present the projects, and it depends on what you are expecting to see. The stories were not always really clear, and on the other hand, I didn't get the feeling what the people behind the projects were really like. If I would be interested in a project, I would want to know more about its creators - if they know what they want to do and if I could imagine working on it together with them. This is the most important thing."
However, the CineLink Drama is very well received in the region. "I think that the pitching of TV series projects that Sarajevo started three years ago is very important when you have in mind the significance and position of TV series in today's industry," Vuk Perović, the head of TV series and film programming at the Montenegrin national broadcaster told Screen. "The interest of industry professionals is clearly higher than last year. I particularly liked Anatomy Of A Crime, with its very interesting story and a strong team behind it. TURBO had a very good pitch, it was engaging and it really told and showed us everything we needed to know about the project. All in all, this was clearly the best TV series pitching in Sarajevo so far, both in the sense of the quality of the projects, and the festival's organisation."
CINELINK DRAMA PROJECTS
Anatomy Of A Crime (Serbia)
Genre: Crime thriller
Format: 10 x 52'
Creators, writers: Ana Tomović, Vuk Ršumović
Director: Vuk Ršumović
Producers: Uglješa Jokić, Mirko Bojović
Production companies: BaBoon Production, Work In Progress
Bad Blood (Serbia)
Genre: Historical drama
Format: 10 x 45'
Creator, director: Milutin Petrović
Writer: Vojislav Nanović
Producer: Snežana van Houwelingen
Production company: This And That Productions
Frust (Bosnia and Herzegovina)
Genre: Crime, drama, comedy
Format: 6 x 55'
Creator, writer: Srđan Vuletić
Director: TBC
Producer: TBC
Production company: TBC
Greater Than Death (Turkey)
Genre: Black comedy
Format: 8 x 50'
Creators: Arya Su Altıoklar, Samim Türkmen
Writer: Avni Tuna Dilligil
Directors: Erhan Yürük, Boran Güney
Producers: Metin Alihan Yalçındağ, Mehmet Altıoklar, Yaman Birman
Production companies: May Productions, Kisakes Production
Theseus (Greece)
Genre: Crime
Format: 8 x 60'
Creator and writer: Panagiotis Iosifelis
Producer: Eleni Pnevmatikou
Production company: Pnevma Productions
MIDPOINT TV LAUNCH PROJECTS
Atavism (Czech Republic)
Genre: Eco-ethno horror with black humour
Format: 10 x 50'
Creator: Duracfilm
Writers: Andrea Culková, Rafael Lopez, Jan Vejnar
Director: Andrea Culková
Producers: Andrea Culková, Viktoria Hozzova, Miroslav Novak
Production Company: Duracfilm
Mother's Got A Gun (working title) (Germany)
Genre: Drama
Format: 8 x 50'
Creators and writers: Eike Goreczka, Arne Kohlweyer
Director: n/a
Producer: Eike Goreczka
Production company: 42film
Sleepover (Greece)
Genre: Dramedy
Format: 8 x 30'
Creators and writers: Maria Hatzakou, Alkis Papastathopoulos
Director: Alkis Papastathopoulos
Producers: Amanda Livanou, Athina Rachel Tsangari
Production companies: Neda Film, Haos Film
Transit (Belgium)
Genre: Drama
Format: 13 x 50'
Creators and writers: Domien Huyghe, Melissa Dhondt
Director: Domien Huyghe
Producer: n/a
Production company: n/a
TURBO (Serbia, Germany)
Genre: Drama
Format: 8 x 50'
Creators: Milica Živanović, Matthias Nerlich, Milan Stojanović
Writers: Milica Živanović, Boris Grgurović, Matthias Nerlich
Director: n/a
Producers: Milan Stojanović, Matthias Nerlich
Production company: Sense Production