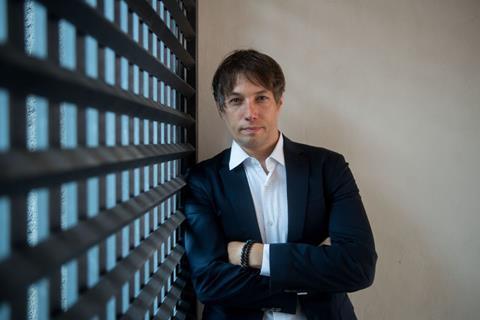 The Florida Project director Sean Baker has revealed more details on his upcoming projects.
Talking to Screen at the Locarno film festival, where he is serving on the competition jury, Baker said he has two films in development.
"There's two films that we're thinking of doing," he said. "We may do them back-to-back because I'm very bad at jumping into editing. I always need distance. With every film I've had producers and financiers who don't mind me taking six months off before editing. This time we thought 'maybe let's make two films back to back and edit them both.' "
One potential project is based on a series of road trips backed by development funding from New York-based non-profit film company Cinereach that Screen first revealed in February.
Baker said: "It's helping us find the next story. We're taking road trips, I'm trying to find the next location. We've done some of that already. It's been very productive. It looks like we're going to settle on a city that I've never shot in before."
Baker added he's still to decide whether to shoot on film or iPhone. "I refuse to use digital," he said. "There's no reason to use digital unless you're going with a phone because most digital is trying to emulate film anyway. So we're trying to figure out that and write the script. We're looking to shoot next year."
He said the other project could be set outside the US. "It will definitely be contemporary, I don't know if it will be the US but it will definitely be a statement on the US. I would like to shine a light on something we are aren't doing right in the US by showing where it is being done right somewhere else. It will definitely be a microcosm."
Baker said he expects one project will be written by him, with the second a collaboration with Chris Bergoch, who he worked with on The Florida Project, Tangerine and Starlet.
Budgets
Baker said he wants to stay "in the same wheelhouse" as The Florida Project for his next films in terms of both budget and "pop sensibility".
"By making it an entertaining story, using a genre, you can shine a light on a political situation or an unrepresented group by making it accessible to a general audience [rather] than just making a social realist piece," he said. "You preach to the choir by doing straightforward neo-realism."
Explaining why he's looking to continue working with smaller budgets, Baker said The Florida Project, which cost $4.1m, was still "teetering on that line of getting into the black." "It's very difficult to make money back," he said.
He added it doesn't feel "ethically right" to spend larger budgets on films about people with limited means. "If someone's willing to put up that money [for example $12m], they could give half of it to charity."
Action films
The director revealed he would love to turn his hand to action filmmaking one day.
"I am very influenced by action genre filmmaking, I watch a lot of that and I'd love to try my hand at that but at the same time I need a proper script," he said.
"If someone handed me a script for [William Friedkin's] Sorcerer , where you have these action scenes and can satisfy an audience that way, but you can also make a socio-political statement on something like the exploitation of oil companies, that would be the ideal thing for me, the best of both worlds but I haven't seen a script like that."