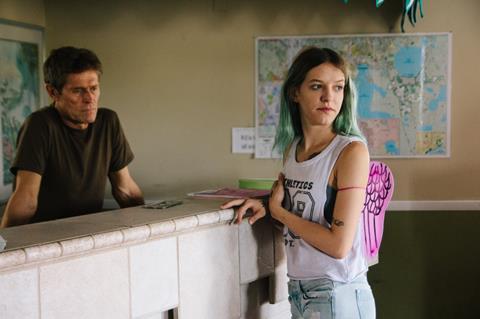 Sean Baker, director of acclaimed indie film The Florida Project, has received development funding from New York-based non-profit film company Cinereach which will allow him to research what will almost certainly become his next feature film.
The LA-based Baker, who has been at International Film Festival Rotterdam with his film this week, will "take a road trip" using development funding from production company Cinereach (which also supported his research for The Florida Project) when he returns to the US. During the journey, he will begin to draw up the screenplay for the new project, which is likely to be a character-driven drama set against the backdrop of the current opioid epidemic in the US.
"I did have scripts ready to go but I have fallen out of love with them," Baker told Screen International. "I see people want me to tell stories about the contemporary US and I am taking that to heart."
Among potential destinations are prisons and the parts of the US where the opioid epidemic has hit most hard, notably West Virginia and Cincinnati. There is no set deadline for the project which Baker will produce himself. He expects that Kevin Chinoy, one of the producers of The Florida Project, will also come aboard as will various others from the film.
Baker is yet to decide how he will cast the film. Nor has he decided how he will shoot the film - and he hasn't discounted the idea of shooting it on an iPhone (as he did on Tangerine).
"It is art and commerce. You are always thinking: 'do I need to get a name in there.' If I didn't have Willem (Dafoe) in this film (The Florida Project), I doubt it would even be in the conversation, at least in the US. All they want is stars. It's kind of ridiculous. They judge you if you don't have a star."
When he suggests that he might make the film with "100% unknowns or first-timers," colleagues are bemused and tell him he is supposed to be "ascending…and that means more money and more stars." His response is "why?"
"My agent and my producers have been pushing me to get to the next thing but to tell you the truth I just want to take it slowly. There's no reason to rush except to pay the bills," Baker said.
The Florida Project was released to critical acclaim in the US by A24. Last week, it secured an Oscar nomination for Dafoe for Best Supporting Actor.
Baker revealed that he has now scrapped plans for a puppet film. Earlier in his career, he achieved considerable success with comedy TV puppet show Greg The Bunny and had considered making a feature film with puppets. However, he abandoned the idea on learning that Brian Henson (son of Jim Henson) was already making puppet comedy thriller, The Happytime Murders with Melissa McCarthy, due out later this year.