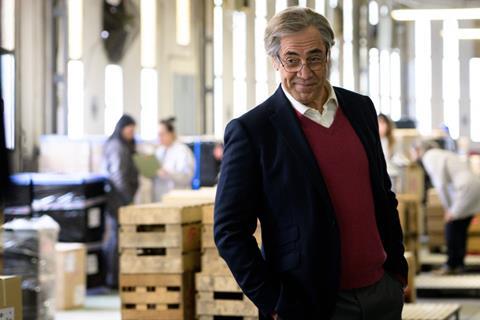 The Good Boss, directed by Fernando León de Aranoa and starring Javier Bardem, scored big at the 36th edition of the Goyas, the Spanish Academy Awards held on Saturday in Valencia. With a record 20 nominations, it won six wards including best film, best director and screenplay for León de Aranoa and best actor for Javier Bardem.
Pedro Almodóvar's Parallel Mothers, nominated for eight awards, left empty handed.
Produced by The Mediapro Studio and Reposado PC, The Good Boss premiered in competition at the San Sebastián Film Festival and went on to be chosen by the Spanish Film Academy members to represent the country for the best international feature film Oscar race but did not make it to the list of nominees.
Written and directed by León de Aranoa, it's a bitter satire that tells the story of the petty boss of an industrial scales factory played with gusto by the chameleonic Javier Bardem. The actor dedicated his award to Penélope Cruz, his partner, as well as their two children, and his mother, the actress Pilar Bardem, who died last summer.
Penélope Cruz, whose work in Parallel Mothers has secured her an Oscar nomination, attended the ceremony as a Goya nominee but did not get the award. It went to Blanca Portillo for Maixabel, the basque terrorism drama directed by Icíar Bollaín. In her acceptance speech, Portillo -who worked with Cruz in Pedro Almodóvar's Volver-, underlined the relevance of her colleague's nomination to the Oscars alongside Javier Bardem's for Being the Ricardos.
Both Penélope Cruz and Pedro Almodóvar did go on-stage once to give the first International Honorary Goya award, a new category created by the Spanish Film Academy, to Cate Blanchett. In her speech, the actress said her love of Spanish cinema started when she discovered the work of Luis Buñuel when she was still a student. She said she would hopefully "learn more Spanish working with Pedro Almodóvar" since she is set to star in his adaptation of Lucia Berlin's book A Manual for Cleaning Women, Almodóvar's first English feature.
During the Spanish film academy awards ceremony, Icíar Bollaíns Maixabel won a total of 3 Goyas; Daniel Monzón's The Laws Of The Border won 5; Marcel Barrena's Mediterráneo. The Laws Of The Sea won 3 awards and Clara Roquet's Libertad won her the best new director award and best supporting actress for Nora Navas. Veteran Spanish actor José Sacristán got the Honorary Goya award to a career spanning.
Goya winners 2022
Best film
The Good Boss (Fernando León de Aranoa)
Best director
Fernando León (The Good Boss)
Best new director
Clara Roquet (Libertad)
Best original screenplay
Ferando León de Aranoa (The Good Boss)
Best adapted screenplay
Daniel Monzón, Jorge Guerricaechevarría (The Laws Of The Border)
Best actress
Blanca Portillo (Maixabel)
Best actor
Javier Bardem (The Good Boss)
Best supporting actress
Nora Navas (Libertad)
Best supporting actor
Urko Olazabal (Maixabel)
Best new actress
María Cerezuela (Maixabel)
Best new actor
Chechu Salgado (The Laws Of The Border)
Best cinematography
Mediterraneo, The Laws Of The Sea
Best art direction
The Laws Of The Border
Best production design
Mediterraneo, The Laws Of The Sea
Best editing
The Good Boss
Best original score
Celtia Montes (The Good Boss)
Best sound
Tres
Best special effects
Way Down
Best costume design
The Laws Of The Border
Best hair and make-up
The Laws Of The Border
Best animation feature
Valentina
Best documentary feature
Quién lo impide
Best European film
Another Round (Thomas Vinterberg)
Best Latin American film
La cordillera de los sueños (Patricio Guzmán)