Hulu adaption of in-demand Margaret Atwood novel among small screen programming roster at Tribeca Film Festival.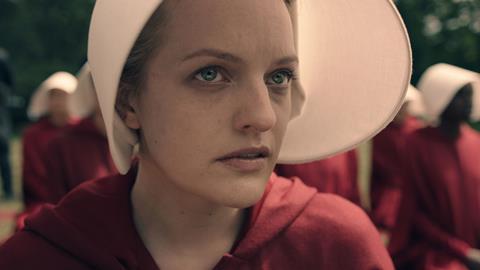 Top brass unveiled on Thursday the line-up for the second annual television festival that runs concurrently with the 16th Tribeca Film Festival.
This year's event will features 15 shows, including five new series world premieres, four season premieres, three independent pilots, and one feature documentary.
The new series world premiere (first episode) of Hulu's highly anticipated dystopian drama The Handmaid's Tale will be followed by a conversation with the cast including Elisabeth Moss and Joseph Fiennes.
Watch the full trailer for The Handmaid's Tale below or click here to watch on mobile.
The programme includes the first episode of National Geographic's first scripted series Genius about the life of Albert Einstein, followed by a conversation with executive producers Brian Grazer and Ron Howard, who also directs the first episode.
Also receiving its debut is USA's crime thriller anthology series The Sinner followed by a conversation with stars Jessica Biel and Bill Pullman and director Antonio Campos.
Highlights include season premieres of Netflix's original series Unbreakable Kimmy Schmidt (season three), followed by a conversation with executive producers Tina Fey and Robert Carlock and the cast; Showtime's final season of Episodes, followed by a conversation between Matt LeBlanc and creators David Crane and Jeffrey Klarik; and Hulu's Casual (season three), followed by a conversation with creator Zander Lehmann, as well as executive producers and cast members.
In addition, this year Tribeca TV will highlight independently produced TV pilots for the first time. Three original new pilots, Black Magic For White Boys, Lost & Found and Manic, will premiere together during a special event followed by a conversation with the creators.
"Coming off of a very successful first year of Tribeca TV, we curated this year's programme to include an expanded, exceptional line-up of top-notch shows and dynamic storytellers both in front of and behind the camera," Cara Cusumano, director of programming at the Tribeca Film Festival, said.
"As the TV landscape continues to evolve in exciting, cinematic directions, the festival creates a unique opportunity for audiences to discover together on a big screen what everyone else will eventually be talking about from their couches at home."
The Tribeca Film Festival takes place April 19-30.
Click here for details of the full line-up.