Doha Film Institute unveils first titles for third edition of Ajyal, confirms second edition of Qumra.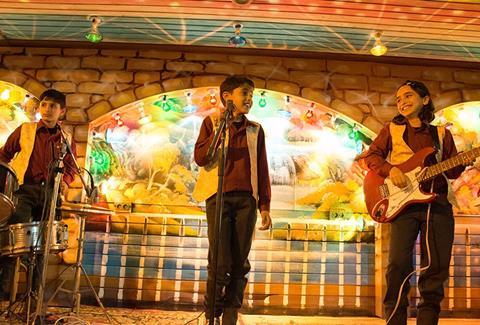 Hany Abu-Assad's crowd-pleasing The Idol, revolving around the true story of Gazan wedding singer Mohammad Assaf who won Arab Idol in 2013, will open Doha's Ajyal Youth Film Festival (Nov 29 - Dec 5) this November.
It is among a handful of first titles unveiled by organising body the Doha Film Institute (DFI) alongside Jafar Panahi's Taxi, Danis Tanovic's Tigers, Nanni Moretti's Mia Madre and Lebanese Mir-Jean Bou Chaaya's Very Big Shot.
"Hany Abu Assad is one of the best filmmakers in the region. It's a story about hope with a global reach but a focus on Gaza. It's great to see a positive story coming out of there," said DFI CEO Fatma Al Remaihi, speaking in London on the eve of the UK premiere of The Idol at the BFI London Film Festival on Monday evening (Oct 12).
"Mohammad Assaf's story is so inspiring and the way Hany Abu Assad brought it to the big screen and the work he did with the cast and child actors behind the scenes is incredible. The whole cast is from Gaza and we're working on bringing as many as we can to Ajyal. It would be great to have them there. I know everyone would love to meet them and talk about their experiences on set."
The DFI was a co-financier on the film, entering the project when it was already in production. As part of the deal two Qatari filmmakers joined Abu Assad in London for two weeks while he was working on post-production.
"They learned a lot. It's one of the reasons we do these types of co-financings with established filmmakers like Hany. It's a great opportunity for us and our local industry."
Beirut-set comedy thriller Very Big Shot was also supported by the DFI under its Grants Programme for first and second-time feature directors.
"We're honoured to present Very Big Shot, a film that embodies our commitment to supporting emerging talent from the region," said Al Remaihi.
"We were really excited when we got this film on the Grants Programme. It's the sort of genre picture that goes down well with local audiences. It was refreshing to see something like this coming out of the region."
Having premiered at Toronto in September, Very Big Shot has a final screening at the LFF on Tuesday (Oct 13).
Tigers director Tanovic also has strong links with the DFI having acted as one of the masters at its Qumra mentoring event last spring.
Taking its name from the Arabic word for "generations", the third edition of the Ajyal Youth Film Festival will take place from Nov 29 to Dec 5 at the Katara cultural village in Doha.
Some 20,000 visitors are expected to attend the festival consisting of open-air screenings, special events and exhibitions and an interactive digital playground.
A youth jury, made up of young people between the ages of eight-years-old and 21, decides the prizes.
Although the onus is on youth, the festival is aimed at all generations.
"Our aim is a diverse selection of world cinema to Qatar. We want to show different cultures and stories that are impacting and making waves elsewhere in the world," said Al Remaihi.
The full line-up and schedule will be announced in early November.
DFI's growing festival presence
Al Remaihi and her team are celebrating a record number of DFI-backed titles in the LFF's line-up this year.
Alongside The Idol and Very Big Shot, the institute also backed 3000 Nights, Degradé, The Garbage Helicopter, Madame Courage and Lamb.
"This year has been our best year for all the festivals starting back in Berlin through to Toronto, where we had nine co-financed and grantee films, and now London," said Al Remaihi.
"It's the fruit of the work we've being doing for the past four years. We've supported 220 films in grants only since the beginning in 2011 and now more and more of them are coming out."
The institute's next grantee announcement will be around the Berlin Film Festival.
Qumra
As well as preparing Ajyal, the DFI is also pulling together the second edition of its Qumra mentoring event.
The first edition, overseen by Palestinian Elia Suleiman as artistic director, went down a storm with industry attendees and budding filmmakers alike last March.
Headlined by five industry-focused masterclasses by Gael Garcia Bernal, Cristian Mungiu, Abderrahamane Sissako, Tanovic and Suleiman, Qumra laid on a bespoke programme of one-on-one tutorials, work-in-progress screenings, script consultations and group tutorials for delegates representing 29 projects from across the globe.
"I don't think we'll be changing the format that much. We got some of the best feedback we've ever had for one of our events. We might tweak a few things but it will be the same with the masters, the screenings and the meetings," said Al Remaihi.
"We'd like to have a diverse slate of 'masters'. We're working on what Elia Suleiman calls 'a bouquet of masters'. We're confirming now who will be available for Qumra."
First details of the second edition of Qumra will be announced after Ajyal.