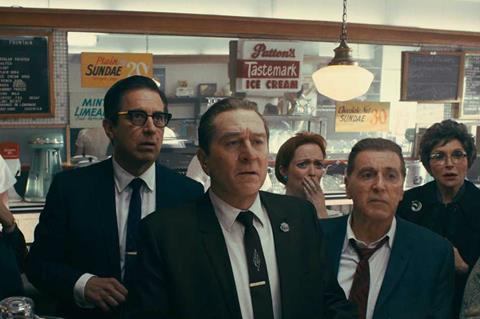 Fresh Nielsen data estimates that an average of 13.16m viewers in the US watched Martin Scorsese's Netflix drama and leading Oscar contender The Irishman over its first five days on the platform.
Average viewership for Scorsese's three-and-a-half-hour crime epic from November 27-December 1 peaked on November 29 (the Friday after Thanksgiving) at 3.1m, and reached 2.8m on November 30.
The ratings service also reported 17.1m unique Netflix viewers in the US, meaning the number that tuned in for at least several minutes – although it is not known exactly how long each person watched the film and how many watched it all the way through.
The numbers make it almost impossible to gauge success within the broader context of the film's exposure to audiences. They refer only to viewers who watched the drama on a television set, and not on other devices like laptops, tablets or smart phones. There is no indication of international streaming numbers.
Reports on the film's budget range from $140m-$200m, excluding marketing costs. Netflix is understood to have spent well over $60m marketing Roma last season.
Nielsen's 13.2m number is the average minute audience, a metric used for TV ratings and designed to attract advertisers. It calculates the average number of individuals who watched during any 60-second period across the entire duration of the film.
The Irishman has also been on limited theatrical release in the US and select territories, however Netflix and its distribution partners have not made ticket sale information available.
Until recently Netflix would release unsubstantiated data on select titles in what was a carefully manicured PR ploy. Now the message from the streamer's hierarchy appears to be changing as they claim they want to be more transparent on data in the future. Head of original films Scott Stuber made that point again this week in an on-stage interview with a trade outlet.