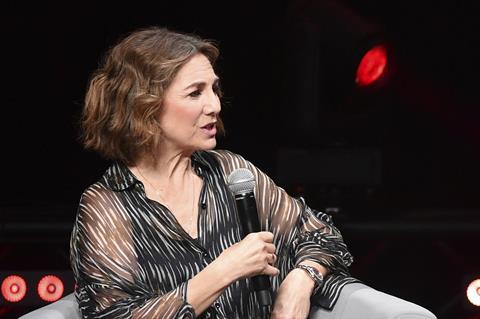 Trail-blazing US showrunner Ilene Chaiken told a MIPTV keynote on Tuesday that she expects the sequel of her pioneering show The L Word to hit US network Showtime by the end of 2019.
The ground-breaking show, capturing the lives of a group of lesbian women and bisexuals living in Los Angeles, originally ran from 2004 to 2009 and was loosely inspired by Chaiken's own experiences.
It marked the beginning of a hugely successful career in TV for the former feature film writer which also includes show-running Empire and spearheading The Handmaid's Tale.
Chaiken revealed she had raised the idea of reviving The L Word with Showtime president Gary Levine after being persistently lobbied by original cast members and close friends Jennifer Beals, Leisha Hailey and Katherine Moennig.
"They were relentless… to their credit," she said.
She said it had been clear to her from the outset that any revival should be overseen by a younger lesbian writer representing a new generation, with 33-year-old Marja-Lewis Ryan (The Four-Faced Liar) hired as showrunner for the new series.
Recalling her conversation with Levine, Chaiken told the audience: "I said, 'I don't think I should be the person to do it. I think some lesbian, who also happens to be a gifted television writer, should do it, someone who has some new stories to tell, who knows how the world has changed in ten years and is going to bring back The L Word for a new generation of viewers."
Discussing why Ryan was hired, Chaiken added: "She is incredibly gifted and she wrote a fabulous script. Showtime is going ahead with the show and ordered it straight to series. Showtime has announced that they want it on the air in 2019."
The revival will feature some of the original characters – including those played by Beals, Hailey and Moennig – as well as a host of younger characters, coming together in the same world.
A pioneering show
Chaiken noted that the original The L Word continues to remain relevant for new generations of viewers to this day.
"I have twin daughters who are 23. They were six when we started making The L Word. I remember them running around on the set as six-year-olds. They now tell me they have friends discovering the show," she said.
Casting her mind back to the first seasons of The L Word, Chaiken recalled she had been both overjoyed and disconcerted at seeing characters she could relate to in a TV drama.
"The first reaction was that reaction of people who have never seen themselves represented and finally are seeing characters who look and feel and behave like them on television. It's a joy, it's so affirming," she said.
"Up until that moment I'd watched films about straight people and pretended that they were gay or that I was straight or tried to the transpose experience. There was also the reaction which was 'That's not me. I don't see myself. I'm a different lesbian. Where's my character?' There's a lot of that and it's really interesting. Still, I enjoy, I welcome it and I think it's fascinating and challenging and it goes to the point that we're not a monolithic community."
Slow progress
Quizzed on whether it was now easier to get LGBTQ+ stories made, Chaiken said: "It's easier but it's sure not easy. It's still an uphill battle and a long way to go and a lot of stories that haven't been told."
TV remained a predominantly white male world, she said, although statistics from media monitoring group GLAAD (Gay & Lesbian Alliance Against Defamation) suggested LGBTQ+ representation was improving.
'I can't reel off the statistics but we know that [they] are still grim for women and people of colour behind the camera, getting stories told. It's still predominantly a white, male world and there is a scarcity of stories of marginalised populations being told."
"It's getting better. The GLAAD statistics for this year are encouraging but we're still down in the low single digits," she said.
Looking back at her career trajectory in the MIPTV Keynote, Chaiken, explained how The L Word TV break came about after she wrote the screenplay for the 2001 Golden Globe winning TV movie Dirty Pictures for Showtime.
The awards limelight encouraged the network's then president Jerry Offsay to green-light an idea Chaiken had floated "whimsically" with Showtime executives some time before.
"I had an idea for a show about lesbians in Hollywood. I kind of guessed it was not a movie, it felt like a TV show, but I wasn't especially looking to work in TV at the time," she recalled.
Chaiken had never worked in a writers' room set-up at that point. To her surprise, she fell in love with the process and "how the collective, creative effort yields something greater than the sum of its parts". She also learned some key lessons on that first series.
"I was advised, 'you don't need to hire lesbians to write this show you just need good writers'," she recalls. "I hired some straight guys and gay guys and a little of everything because I wanted to be a good team player. What I found out in the first season of the show was that the only ones who could write the show were lesbians.
"It's a lesson which I've carried ever since which is that when you're telling stories about a marginalised group of people whose lives have never been portrayed before, the people who tell those stories should be the people who have lived those stories."