The Other Guys became the fifth film this year to go three consecutive weeks at number one at the UK box office.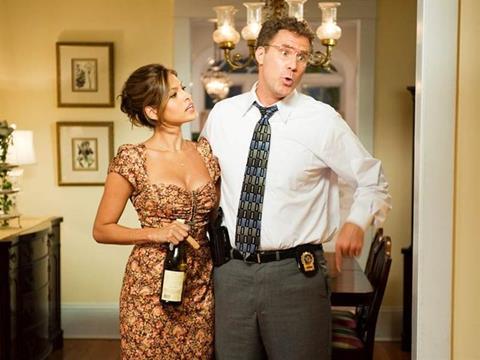 Sony's comedy took $1.5m (£976,459) from 427 screens at an average of $3,360 (£2,287) over the Oct 1-3 weekend.
The performance was more good news for Sony, which has seen its 2010 UK market share boosted by a string of recent releases. Sony has now leapfrogged eOne, with whom it was in a tussle for sixth place on the distributors' chart.
However, the sub $1.6m (£1m) best performance was the lowest from a number one film at the UK chart since You, Me And Dupree opened on $1.2m (£747,185) in September 2006.
While inclement weather might have brought a smile to exhibitors faces last weekend, potential cinema-goers were diverted by TV hits such as X-Factor, which pulled in 14m viewers and Dancing with the Stars, which had 8.7m.
Icon's thriller Buried opened in third place on the UK chart, after grossing $1.3 (£820,631) from 302 screens at an average of $4,313 (£2,717). The opening total is Icon's best since Paranormal Activity in November 2009 and their fifth biggest ever.
Paramount's Made In Dagenham and Universal's re-release of Back To The Future entered the chart in sixth and seventh place, grossing $1.1 (£674,059) and $732,153 (£461,194) respectively.
Fox's 12th-placed Marmaduke was the weekend's most resilient top 20 film, improving its week-on-week performance by 14% for a healthy total of $8.1 (£5.1m).
The week's other top 20 debuts included 11th placed Tamil sci-fi Endhiran: The Robot, which made $451,802 (£284,600) for Ayngaran International, Sony's action-thriller Takers, which took $330,828 (£208,390) and Eros' Anjani Anjani which debuted in 15th after making $292,101 (£183,989).
This week's openers include Fox's Wall Street: Money Never Sleeps, Universal's fantasy-romance The Death And Life Of Charlie St. Cloud and eOne's Howard Marks biopic Mr Nice.