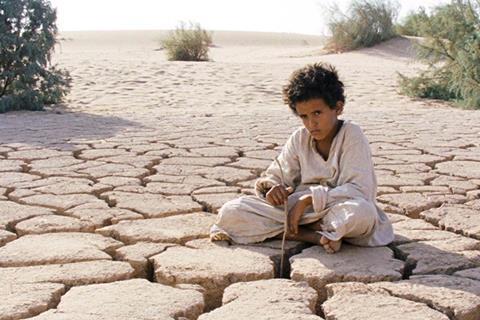 Theeb writer and producer Bassel Ghandour, Lebanese director Mounia Akl, British-Morrocan film-maker Anwar Boulifa and provocative Palestinian visual artist Larissa Sansour will be among the filmmakers presenting projects at the Dubai Film Connection (DFC) this December.
A total of 13 projects will be presented at the co-production platform running during the Dubai International Film Festival (6-13 Dec).
Jordan's Ghandour will unveil his debut feature The Alleys, a tale of love, lies and deceit involving several interconnected characters in the heavily populated neighbourhood of East Amman, a hotbed of gossip and violence.
Akl, who was one of Screen International's first Arab Stars Of Tomorrow in the inaugural 2016 edition run in association with DIFF, will present her debut feature Costa Brava. It revolves around a close-knit family that has withdrawn from society in response to a nationwide refuge collection crisis.
Boulifa will attend with The Unwanted, the tale of young girl in northern Morocco who falls pregnant out of wedlock. UK-born Anwar, who also has Moroccan roots, was one of Screen International's UK Stars Of Tomorrow this year.
Other film-makers at the event include veteran Syrian director Mohamad Malas with Zero One One, a Damascus-set drama about the relationship between a woman who has recently been released from prison, where she was raped, and a filmmaker whose former girlfriend has fled the war-torn country, leaving him behind.
Palestinian visual artist Larissa Sansour will present In Vitro, a post-apocalyptic sci-fiction tale set against the backdrop of Bethlehem, exploring both its past and an imaginary dystopian future.
A total of $70,000 will be meted out across six prizes: France's National Cinema Centre (CNC) Award (€5,000), the Sky New Arabia Award ($10,000), the Arab Radio and Television (ART) Award ($10,000), the Cinescape/Front Row Award ($10,000), the Hideaway Entertainment Award ($10,000) and $25,000 from DIFF.
Aside from the cash prizes, five participating Arab producers will receive complimentary accreditation to the Producers Network at the Cannes Film Festival 2018.
With the support of SØRFOND, Norwegian South Film Fund for films from developing markets, up to two DFC projects will also be invited to the Sorfond Pitching Forum, held during the 2018 Films from the South Festival in Oslo.
Filmmakers will also have an opportunity to bring their project to unmatched production forums, with an invitation for a DFC fiction project to the renowned Tribeca Film Institute, which takes place at the famed festival. The Robert Bosch Stiftung Institution will also invite one project to its Amman Project Market, to help a budding non-fiction film from the region find a German co-producer.
"DFC continues to be a key platform for emerging filmmakers in the Arab world, and our partners from across the globe are crucial in generating international support and recognition of the amazing work coming from this region," commented DIFF managing director Shivani Pandya.
DFC director Jane Williams echoed these sentiments: "The Dubai Film Connection plays a central part in supporting regional filmmakers from the Arab world by helping them bring their projects from a working title to the big screen."
"By giving crucial funding and access to industry professionals from around the world, it helps new and established filmmakers realise their projects and be inspired to create new and innovative films. We are very thankful for the support provided by our generous partners that contributes to the development of the region's thriving film industry."
The 2017 Dubai Film Connection line-up:
The Alley, dir. Bassel Ghandour (Jordan)
God Bless Buddies, dir, Lotfi Achour (Tunisia)
You Will Die at Twenty, dir. Amjad Abu Alala (Sudan)
Zero One One, dir. Syrian filmmaker Mohamad Malas (Syria)
Dirty, Difficult, Dangerous, dir. Wissam Charaf (Lebanon)
Costa Brava, dir. Mounia Akl (Lebanon)
School of Hope, dir. Mohamed El Aboudi (Morocco)
The Syrians, dir. Mohamed Ismail Laouti (Tunisian)
It's Far Away Where I Must Go, dir. Karima Saidi (Morocco_
Europa, dir. Haider Rashid (Iraq)
I Dreamt of Empire dir. Kasem Kharsa (Egypt)
The Unwanted, dir. Anwar Boulifa (Morocco)
In Vitro, dir. Larissa Sansour (Palestine)