Locarno's Carlo Chatrian, Matthijs Wouter Knol of EFM and Cosima Finkbeiner of Beta Cinema discussed festival budgets and revenues.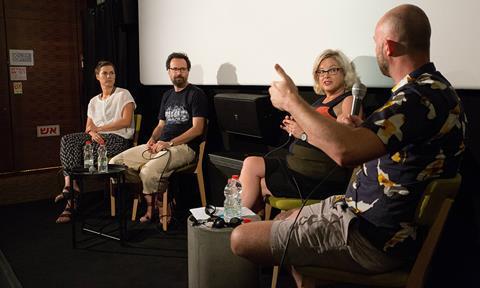 Click here to read Screen's full Think Fest coverage from Jerusalem
Think Fest's final panel explored the challenges facing film festivals in the 21st century, from the pressures of securing A-list talent to decreasing budgets. As purse strings for arts budget tighten across the world, Think Fest moderator Wendy Mitchell asked panellists whether they were feeling the squeeze.
Carlo Chatrian, artistic director of Locarno Film Festival, said that despite an overall 3% decrease in government funding for culture in Switzerland over the last year – and a further 3% decrease set to come – his festival's budget had remained steady at around $13.5 (CHF13m).
Shortfalls in government funding could be made up by an increase in sponsors, he noted, but that came with its own challenges. The Locarno team now had more obligation to their commercial partners, with Chatrian highlighting the complex balance between commercial and artistic concerns.
He hoped starry evenings held at his summer festival - gala outdoor screenings hosted at Locarno's Piazza Grande – would encourage attendees to seek out more arthouse titles.
"If I invite Edward Norton and people come to see his film, maybe they will notice other films," he said.
"How do you sell a huge arthouse programme to a sponsor? That's a challenge," noted Matthijs Wouter Knol, director of the Berlinale's European Film Market. "Sponsors want specific things, as a festival you need to start thinking about what you can offer apart from your films," he added.
The panel also addressed how festivals can stay relevant for industry attendees, as well as their public audiences.
"What will become more important on top of the films is sharing an experience, something you cannot find on the web," commented Chatrian. "People need to meet each other; feedback by email isn't the same."
Wouter Knol also talked up the human element provided by festivals, saying that deals couldn't be struck without the trust that is built by face-to-face interaction. However, he also questioned whether there are too many events on the industry calendar: "Do you need to do that every week at another festival around the world?"
Cosima Finkbeiner, festival manager at Beta Cinema, said that film festivals remain integral to the company's sales strategy.
"Finding the right world premiere portal for a film is what helps us sales agents get the ball rolling," she said, adding that it wasn't just about identifying the right festival, but also finding the right programme slot and the right timing for the launch.
A strong festival berth was also essential in attracting the necessary press attention. "We're reliant on good reviews to help us score sales, or at least a polarising review that will make people curious," said Finkbeiner.
As arthouse distribution continues to recede, festival revenues from screening fees can be an important source of income for smaller titles on Beta's slate, she added.