Roger Deakins, Rachel Morrison, Gary Oldman, Meryl Streep and more react to their Oscar nominations.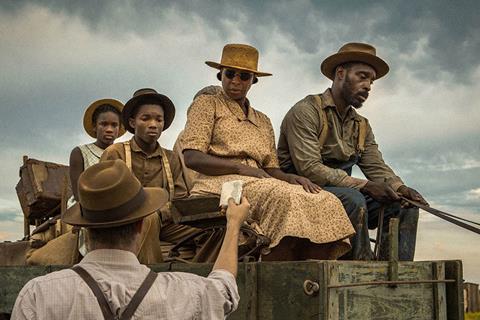 Peter Spears, Luca Guadagnino, Emilie Georges and Marco Morabito – Call Me By Your Name (best picture)
"We are equally ecstatic and humbled by the Academy's embrace of Call Me By Your Name and honored to be amongst the other exceptional nominees. The nominations for the film and in recognition of Timothée, James and Sufjan are a gift for the whole creative ensemble who came together from around the globe to make this film, including our distributor Sony Pictures Classics. Over a decade ago we began our journey to adapt André Aciman's beautiful novel into a great cinematic romance that challenged conventions. Today we are incredibly proud that this endeavor, helmed by our extraordinary director Luca Guadagnino, not only resulted in delivering a movie that we needed when we were growing up, but also affirms that the purity, the beauty, the magic and the mystery of love are universal."
Emma Thomas – Dunkirk (best picture)
"We woke up to my phone just blowing up… this morning was mayhem. One of the reasons I'm so happy with this nomination is because it was a really, really challenging movie to make - everyone that's a part of it, everyone on the crew, is so talented and good at what they do that they make it look easy, so I'm very excited that they're getting recognized. I'm excited to celebrate with Chris, he's one of the greats, which I'm allowed to say (even if he won't). We're not sure what comes next just yet – we're taking a bit of a breath for now."
Jordan Peele – Get Out (best picture)
"Thank you to the academy for recognizing my crew, my cast, and the exceptional and brilliant Daniel Kaluuya. I am so proud of this film – it has been an unbelievable journey for any movie, let alone a horror film that came out a year ago. Thank you for the audience that bought tickets, that told their friends, that kept championing this film. Today, I celebrate not only Get Out, but every voice that is told that they don't fit the mold, and that they don't belong. And to all of those who came before me and broke down doors for African-American filmmakers and genre films, I stand on your shoulders with gratitude and a commitment to continue to make room for those who follow."
Amy Pascal, Kristie Macosko Krieger and Steven Spielberg – The Post (best picture)
"We are so proud of the Academy's recognition today and that this film has been loved by so many people. It is especially gratifying to be honored for this film about a woman finding her voice at a moment when so many women across this country are finding their own."
Meryl Streep – The Post (best lead actress)
"I am honored beyond measure by this nomination for a film I love, a film that stands in defense of press freedom, and inclusion of women's voices in the movement of history- Proud of the film, and all her filmmakers. Thank you from a full heart."
Sally Hawkins – The Shape Of Water (best lead actress)
"This nomination is for every single one of us who brought our hearts to this film. I am here because of the greatness of others. I stand on the shoulders of giants. Guillermo handed me a gift with this role, this film. I am so delighted for us all. To be honoured by the acknowledgement of my colleagues of fellow actors, filmmakers, writers, crew members is truly humbling. It is a privilege to tell such stories and to be able to make films that show there is a life beyond the life that people know - one that is not always seen. To be considered in this category along side these exceptional women is a real honour and gift in itself."
Timothée Chalamet – Call Me By Your Name (best lead actor)
"Wow, what an incredible morning. I'm a bit in shock. The feeling of gratitude I have at the moment has less to do with individual achievement and more with the appreciation for the artists past honored in this category and all of the nominees of this year. I am in awe of the pedigree of the Academy. I am truly honored. I've been traveling with Armie Hammer the last twelve hours. We land in two hours and we will be back in Italy together for the first time in a year and a half. Tonight we're getting dinner with Luca Guadagnino. Without Luca's true mastery and vision, and without Armie's trust and guidance, without the public arts funding that made my high school education at LaGuardia possible, I wouldn't be in this position. Thank you to those that made this possible, and the Academy, for this recognition."
Gary Oldman – Darkest Hour (best lead actor)
"Firstly, I want to congratulate my fellow nominees, both in the acting categories and across the board. To be in such company is deeply, genuinely, humbling. To have the chance to play an iconic leader like Winston Churchill at this point in my career, was the opportunity of a lifetime and I am so happy that my colleagues and partners on this wonderful film have also been honored with nominations. I am overjoyed to be nominated, and proud to be part of this wonderful thing known as movie making!"
Read more: Oscars 2018: 'The Shape Of Water' leads the way with 13 nominations
Octavia Spencer – The Shape Of Water (best supporting actress)
"My heart is bursting with pure elation for the cast and crew of The Shape Of Water. Guillermo has given us all a dream job and to be recognized by the Academy is so deeply moving. I am jumping for joy from Park City for all of the nominees this morning! Congratulations everyone."
Christopher Plummer – All The Money In The World (best supporting actor)
"I am absolutely thrilled to have received this nomination by the Academy. It was quite unexpected but incredibly gratifying. Everything has happened so quickly of late that I am still a trifled stunned but excited by it all."
Sam Rockwell – Three Billboards Outside Ebbing, Missouri (best supporting actor)
"Wow, this is an incredible honor. Thank you so much to the Academy. I am truly humbled and proud to be nominated alongside Willem, Richard, Christopher, and of course Woody. The support for our film has been remarkable and I share this recognition with the entire cast and crew. Thank you to Fox Searchlight for your unwavering support. I have been a working actor for a long time and this really means a lot."
Martin McDonagh, director – Three Billboards Outside Ebbing, Missouri (best director)
"I'm thrilled that our film has received seven nominations from the Academy, and that the beautiful work of our editor Jon Gregory, our composer Carter Burwell, my gentle brothers-in-arms Woody Harrelson and Sam Rockwell, and our fearless leader Frances McDormand, have all been recognised so wonderfully. I can't wait to celebrate with them all come March 4th."
Roger Deakins – Blade Runner 2049 (best cinematography)
"It was a nice surprise this morning to hear of the nomination. This is a testament to and recognition of the work of all the people on this film. Everyone put in so much that it makes me very happy".
Bruno Delbonnel – Darkest Hour (best cinematography)
"I am really happy about this nomination, especially being among such great cinematographers with different styles of cinematography. I was fortunate to work with director, Joe Wright, who had a very visual approach for Darkest Hour. I cannot thank him enough for letting me translate his ideas into cinematography. I have a special appreciation for the crew on this film. They did a fantastic job. All of them."
Rachel Morrison – first woman in history nominated for a cinematography Oscar , Mudbound (best cinematography)
"While it's hard to believe that this ceiling has taken so long to break, I am absolutely humbled and thrilled to receive this great honor. I hope this nomination serves to encourage more women to throw a camera over their shoulder or to follow their dream no matter how distant it might appear."
Emily V. Gordon and Kumail Nanjiani – The Big Sick (best original screenplay)
"We are thrilled and honored to be nominated for The Big Sick. We got a masterclass in storytelling from our producers, Barry Mendel and Judd Apatow, and from our director Michael Showalter – all of whom pushed us to dig down, be more honest, and be willing to make changes when the story called for it. It was an incredibly unique challenge to take some of the most vulnerable, painful, and beautiful moments from our life together and turn it into a movie. At times we worried it would be insurmountable, or would rip us apart, or even worse – that no one would like it. The fact that it connected with audiences is exhilarating, and this nomination proves that our love is real. We have decided to stay married."
James Mangold, Scott Frank, Michael Green – Logan (best adapted screenplay)
"While Logan was always going to be perceived as the last chapter in a successful "super hero" franchise, and a final performance in this role by my brilliant friend Hugh Jackman, Scott Frank, Michael Green and I always viewed the task of writing it as, first and foremost, an opportunity to make a dramatic character piece, one that just so happened to feature beloved comic book characters. We are so grateful for the nomination."
Virgil Williams – co-writer, Mudbound (best adapted screenplay)
"This is an incredible affirmation of many many years of incredibly hard work. I'm so incredibly thrilled and honored to be recognized. But mostly I'm so proud of our astounding cast and crew who deserve all the praise. I'm so grateful to the Academy for recognizing our collective effort."
Dennis Gassner – Blade Runner 2049 (best production design)
"Thank you to the Academy for this wonderful honor. Creating the world of "Blade Runner 2049" with director Denis Villeneuve was tremendously challenging but equally rewarding. I share this nomination with my entire team, and I would also like to congratulate all of my fellow nominees, especially my brilliant collaborators, Roger Deakins and John Nelson."
Mark Bridges – Phantom Thread (best costume design)
"I started the day to the great news that Phantom Thread received six Oscar nominations and Costume Design was one of them! I am delighted to be nominated and thrilled to be in the company of my very talented fellow Costume Design nominees!"
Sebastián Lelio, director – A Fantastic Woman (best foreign-language film, Chile)
"Thank you to the Academy and to everyone who helped make A Fantastic Woman. At times like this when there is so much adversity and struggling in the world, I hope we can find in each other's experiences the courage and inspiration to make change. We are honored to represent Chile with this story of love and resilience."
Ziad Doueiri – The Insult (best foreign-language film, Lebanon)
"This is the first time that Lebanon enters the Oscar's race. It took me by complete surprise! It is a great day for freedom of speech. We have been subjected to intimidation and people who are trying to silence us from telling the truth, but today the will of the people prevailed. I want to thank the incredibly dedicated Lebanese cast who gave their best in spite of the intimidation tactics they were faced with. I also wish to thank the producers and the crew from Lebanon and France. This is the happiest moment in my life."
Andrey Zvyagintsev, director – Loveless (best foreign-language film, Russia)
"We are absolutely thrilled by this recognition from the Academy. It means a great deal to us as filmmakers and it encourages us to continue to tell the stories that move us, in the way we want to tell them. I hope that our nomination will bring audiences into theaters when we open Loveless in February."
Ruben Ostlund – director The Square (best foreign-language film, Sweden)
"I was filming myself when I found out…making a sequel to this. We got much better footage this year. The Square started out when we were making art installation pieces that looked at our role as human beings, humanistic values, and we decided to make a film about it. We wanted to draw attention to how we look at the responsibility of being fellow citizens. It's wild and complex content. To celebrate, we'll be skiing - I'm at Sundance with my wife, so we're looking forward to skiing, and then watching some more films later on."
WETA Digital's Joe Letteri and Dan Lemmon – War For The Planet Of The Apes (best visual effects)
"We are immensely proud of this work and grateful to the Academy for recognizing War For The Planet Of The Apes with a nomination today. This is the final film in the trilogy, and we've been really happy to see how audiences have been swept up by the emotional story of Caesar and his fellow ape characters."
Agnès Varda and JR, Filmmakers – Faces Places (best documentary feature)
"JR and I have made our film Faces Places to be seen, shared and loved. We felt good to have been chosen in the medium-short list of 15 documentaries of some quality… But, being chosen in the short-short list of 5 films makes us feel good-good! And it also means that we are now in competition with 4 other good-good films. The competition is not that funny, but it's the way it goes. Whatever happens, we will enjoy the party. For French artists it is an honour anyway."
Carlos Saldanha, director – Ferdinand (best animated feature)
"I was just going through airport security when my phone started buzzing! Thankfully they didn't stop me and I was able to celebrate. I thought they would arrest me for looking like a crazy man laughing and screaming."
Dorota Kobiela, co-director – Loving Vincent (best animated feature)
"This all started in an attic just before my 30th birthday, when I felt lost about what I was doing with my life. It is unbelievable that it has led to this. I am so proud we are the first Polish animation feature film to be nominated for an Oscar. I am equally proud that this year I am one of two women directors nominated in this category, which until now only had 4 women nominated out of 72 directors nominated. Maybe this is the year that we can start to change this imbalance. Most of all I am proud of my painters (over 60% of whom were women), my actors and my crew. They believed in an undertaking that many considered crazy- to paint an entire film in oil-paints on canvas by hand. I am a small part at the head of a great team of dreamers! Our dreams were sustained by Vincent, so I wish he was here so I could thank him too!"
Hugh Welchman, co-director – Loving Vincent (best animated feature)
"I couldn't sleep last night… I was so nervous. Loving Vincent is a Polish-UK co-production. It is the not only the first Polish animation feature film nominated for an Oscar, it is the first Polish animation feature film in history animated by a woman, my wife Dorota, I am so proud of her, and grateful to her for including me on this wonderful journey as her co-writer and co-director. Also as a Brit I am very proud that this film is the first animation feature film nomination from Britain that isn't produced by the national treasure that is Aardman! I am so grateful to the Academy for recognizing and honoring our labor of love, it really makes the world of difference to small films like ours, in amongst these $100m plus studio Goliaths. Really, their decision changes the lives of film makers like us."
Alexandre Desplat – The Shape Of Water (best score)
"This is fantastic news! I am grateful to the music branch of the Academy for voting for me as well as all the magnificent musicians who performed on the score. I am also thrilled for Miles Dale, for the cast and for the crew with so many nominations. I am so thankful to Guillermo for his humanity and his artistic passion; he truly inspired all of us."
Kristen Anderson-Lopez and Robert Lopez – Coco (best song, 'Remember Me')
"We were watching from our couch in Brooklyn, our 8-year-old between us, and we were all just so excited. Our girls have never gotten to go to an awards ceremony before but we told them this year, if we're lucky enough to be nominated they can come… so, so excited. We got involved with the project when Pixar called us up and asked us to be a part of it, and we just jumped at the chance - it was a dream! It's a beautiful movie that celebrates Mexican culture, family, and music, and we're so thrilled to be a part of it. Now we're working on Frozen Broadway – previews start in February so it's keeping us very busy."
Diane Warren – Marshall (best song, 'Stand Up For Something')
"I'm so thrilled that 'Stand Up For Something' from Marshall has been recognized by the Academy. To me this song is a call to action in these trying times. It's time to stand up against hate, to stand up for love, to stand up for each other, and to stand up for ourselves."