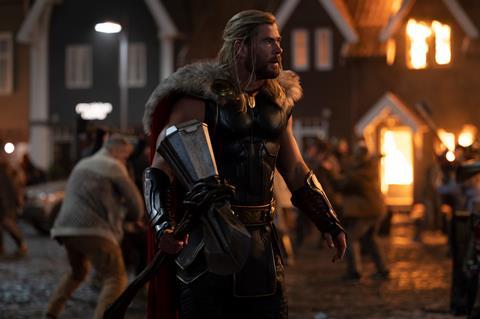 Thor: Love And Thunder is expected to cross $400m at the global box office today (July 14) after Wednesday ticket sales propelled the running total to $382.4m and saw the tentpole ease past $200m internationally.
A further $25.3m on Wednesday brought in $16.4m from international markets and $8.9m from North America to raise the respective tallies to $203.5m and $178.9m heading into the second weekend.
The Disney/Marvel Studios release grossed $1.9m in France on the Wednesday opening day leading into a four-day Bastille Day holiday weekend where the country is in the grip of a heatwave like much of Europe.
The French debut came in some 53% ahead of that of Thor: Ragnarok, 42% ahead of The Batman and 6% below Jurassic World: Dominion. Including previews the Wednesday result climbs to $2.9m.
The UK has produced $19m, South Korea $17m, Australia $16.8m, $14.6m in Mexico and $12.5m in India.
Elsewhere Love And Thunder stands at $10.8m in Brazil, $8.8m in Indonesia, $7.5m in Germany, $6.4m in Italy, $5.7m in Japan, $5m in Spain and $4.7m in Argentina.