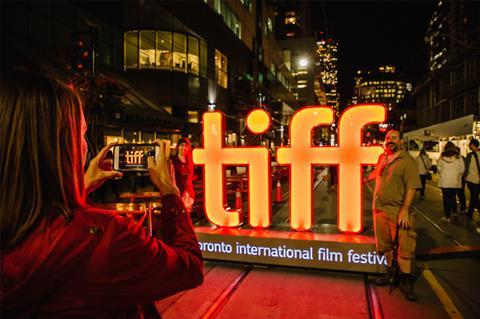 Top brass have revealed details of the hybrid screening format at next month's 45th Toronto International Film Festival (TIFF) that encompasses traditional venues, open air and digital presentations.
TIFF co-heads Cameron Bailey and Joana Vicente said on Monday (August 10) that audiences will be able to watch indoor screenings at reduced capacity at TIFF Bell Lightbox and Isabel Bader Theatre.
Outdoor festival selections will also be available at: Visa Skyline Drive-In at CityView, RBC Lakeside Drive-In at Ontario Place, and West Island Open Air Cinema at Ontario Place, where "lawn pods" for up to two pedestrians will be available for purchase.
Home viewing will take place via Bell Digital Cinema, TIFF's secure digital platform that will be geoblocked within Canada and will present most of the festival selection.
Audiences will be able to watch festival films on TV screens at home using Chromecast or the new digital TIFF app created for the festival that will be available in the Apple App Store on September 9.
Anti-piracy measures such as forensic watermarking and visible watermarking will be in place on Bell Digital Cinema for each film.
Screenings will operate at reduced capacity in accordance with public health guidelines during the pandemic. Festival organisers said they have calculated capacity from previous editions in order to accommodate as many audience members as possible across the hybrid viewing formats during what they described as "this exceptional year".
"We're thankful to every filmmaker, company, donor, member, and partner that has joined us on this adventure," said Bailey and Vicente. "We are here today because of our commitment to great programming, to collaboration, to bringing audiences together through the love of film, and to celebrating the amazing audiences we have right here in our city of Toronto. We are truly proud and excited to share this news today."
TIFF's official list of films, the screening schedule, and information on where each film will screen, will be released on August 25 with an announcement on TIFF Special Events and ancillary screenings.
The festival is set to run from September 10–19. Click here for further details.