Competition section features six world premieres including titles from Koji Fukada and Yoshihiro Nakamura.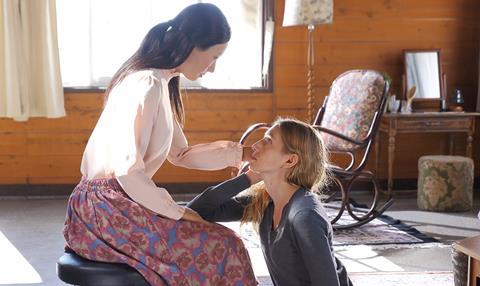 The 28th Tokyo International Film Festival (October 22-31) has unveiled its line-up with six world premieres in the Competition section, including Turkish director Mustafa Kara's Cold Of Kalandar, Hao Jie's My Original Dream and Thai film-maker Kongdej Jaturanrasmee's Snap.
Also world-premiering in Competition are three Japanese titles: Kohei Oguri's Foujita, Yoshihiro Nakamura's The Inerasable and Koji Fukada's Sayonara – the most local films in the main section since 2004.
The other selections are either Asian or international premieres. The topics of war or refugeeism are a common thread among some films, echoing current day headlines. "We were not conscious about choosing those types, it just happened that way and we noticed afterwards," said Competition programming director Yoshi Yatabe.
"As much as possible we'd like to cover a wide range of geographical areas and genres," he said of the selection criteria, adding that this year's slate is notable for covering a broad range of regions globally.
Bryan Singer, who won a Tokyo Gold prize as director of The Usual Suspects in the festival's Young Cinema Competition in 1995, will head the Competition jury. He will be joined by Vietnamese film-maker Tran Anh Hung (The Scent Of Green Papaya), Norwegian writer-director Bent Hamer (1001 Grams, which played in TIFF competition last year), producer Nansun Shi (Flying Swords of Dragon Gate), Danish writer-director Susanne Bier (In A Better World) and director Kazuki Ohmori (Godzilla vs. Biollante).
COMPETITION LINE-UP
(* indicates world premiere)
All Three Of Us, dir. Kheiron (France)
Born To Be Blue, dir. Robert Budreau (US-Canada-UK)
Cold Of Kalandar, dir. Mustafa Kara (Turkey-Hungary)*
Family Film, dir. Olmo Omerzu (Czech Republic-Germany-Slovenia-France-Slovakia)
Foujita, dir. Kohei Oguri (Japan-France)*
Full Contact, dir. David Verbeek (Netherlands-Croatia)
The Girl's House, dir. Shahram Shah Hosseini (Iran)
God Willing, dir. Edoardo Falcone (Italy)
The Inerasable, dir. Yoshihiro Nakamura (Japan)*
Land Of Mine, dir. Martin Pieter Zandvliet (Denmark-Germany)
A Monster With A Thousand Heads, dir. Rodrigo Plá (Mexico)
My Original Dream, dir. Hao Jie (China)*
Nise - The Heart Of Madness, dir. Roberto Berliner (Brazil)
Roukli, dir. Veiko Õunpuu (Estonia)
Sayonara, dir. Koji Fukada (Japan)*
Snap, dir. Kongdej Jaturanrasmee (Thailand)*
ASIAN FUTURE LINE-UP
(* indicates world premiere)
The Asian Future competition for up-and-coming directors has five world premieres and five international premieres. In addition, five of the films are from female directors.
The Actor, dir. Satoko Yokohama (Japan)*
The Crescent Moon, dir. Ismail Basbeth (Indonesia)
If Only, dir. Ishaan Nair (India)*
The Island Funeral, dir. Pimpaka Towira (Thailand)*
The Kids, dir. Sunny Yu (Taiwan)
Lazy Hazy Crazy, dir. Luk Yee-sum (Hong Kong)*
Shoot Me In The Heart, dir. Mun Che-yong (Korea)
A Simple Goodbye, dir. Degena Yun (China)*
Stair Dad, dir. Hasan Tolga Pulat (Turkey)
Young Love Lost, dir. Xiang Guoqiang (China)
OTHER SECTIONS
Japanese Cinema Splash, the festival's third competition section, is aimed at showcasing Japanese independent films seen as unique and challenging. It will feature eight world premieres, including Hirobumi Watanabe's 7 Days and Rikiya Imaizumi's Their Distance.
The festival has added three new sections this year. Japan Now will mainly showcase recent Japanese films, with a focus on the works of Masato Harada. Headlining the Japanese Classics section will be the screening of a 4K digital restored version of Akira Kurosawa's Ran. And Panorama will feature a variety of films including documentaries and animation, aimed at a broad audience.
Tokyo will also continue its Crosscut Asia series with a spotlight on film-makers of the Philippines, including a special programme on Kinatay director Brillante Mendoza. The first instalment last year featured Thai cinema.