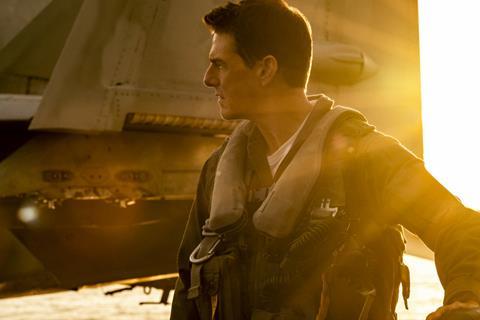 Paramount has delayed its Tom Cruise tentpoles, pushing Top Gun: Maverick into 2022 and Mission: Impossible 7 deeper into next year as the ongoing pandemic impacts global distribution.
Top Gun: Maverick will now officially open the summer season on May 27 2022 Memorial Day and had been set to open over Thanksgiving weekend on November 19.
Mission: Impossible 7 moves from the May 27 2022 slot to September 30 2022. Jackass Forever moves from October 22 this year to February 4 2022.
The studio showed footage from Maverick and MI7 at CinemaCon last week and executives are sticking to theatrical releases for both as they aim to preserve the tentpoles' box office potential.
Research has shown audiences in the US remain uncomfortable attending cinemas. A poll by NRG revealed that comfort levels among film-goers dropped 11 points month-on-month to 67% in August.
Markets like New York, Philadelphia, San Francisco, Washington DC and Seattle are said to have been under-performing and have been slower to recover to pre-pandemic levels.
Vaccine mandates are now in place for indoor entertainment venues in New York, San Francisco and New Orleans – where the entire community has been batted by Hurricane Ida – and city leaders are considering similar measures in Los Angeles.
Internationally, markets like Australia, Mexico, Japan and China in particular have struggled over the past few months. Cinemas across much of Asia remain shut down – as is the case in the Philippines, Malaysia and Indonesia, while Vietnam is 2% open – although they are said to have reopened in Taiwan.
Victoria and New South Wales in Australia are shut down and have cut the national theatrical footprint to 55-60% of pre-Covid levels. Studio executives expect New South Wales might not reopen until at least the end of October. New Zealand is also now on strict lockdown.
Markets in Latin America are experiencing slow business with Mexico and Brazil understood to be at least 50% down on pre-pandemic levels.
Europe is showing signs of a return even if recovery is slower than hoped with the health pass in effect in places like France, Germany, and Italy. Box office is down significantly in Italy to the tune of around 70%, while France and the UK have seen drops of around 40%.