BBC, FX greenlight 8x60 series exec produced by Ridley Scott.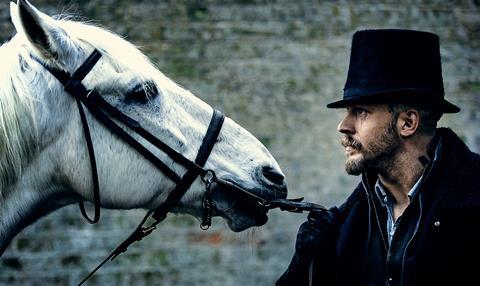 Taboo, the drama series starring and executive produced by Tom Hardy, has been renewed for a second season by the BBC and FX.
The eight-episode first series was broadcast earlier this year on BBC One in the UK and FX in the US.
Set in 1814, Hardy stars in the series as a man who, believed long dead, returns home from Africa to London to inherit the remnants of his father's shipping empire. The cast also included Oona Chaplin, Jonathan Pryce and David Hayman.
Taboo was created by Steven Knight (Peaky Blinders) with Tom Hardy and Chips Hardy.
The new 8x60' series has been commissioned by Charlotte Moore, director of BBC Content and Piers Wenger, controller of BBC Drama.
It will be produced by Ridley Scott's Scott Free London and Tom Hardy's Hardy Son & Baker for BBC One and FX with Sonar Entertainment again distributing worldwide outside the UK. Executive producers are Ridley Scott and Kate Crowe for Scott Free, Tom Hardy and Dean Baker for Hardy Son & Baker, and Steven Knight.
Anders Engström and Kristoffer Nyholm were directors on the first series, which also sold to HBO for Spain, Nordic territories and Eastern Europe; AMC for Portugal; TV1000/Viasat for Russia and CIS region; Cosmote in Greece; Digiturk in Turkey; and Fox Network Group Latin America for the Americas and the Caribbean.
"We are grateful and excited to continue our relationship with the BBC and FX in contributing towards British drama. Fantastic news," commented Tom Hardy.
"We're thrilled people want to know what happens next and that the BBC and FX are up for more adventures with the devil Delaney and the league of the damned," added Ridley Scott. "Along with our international distributors, Sonar Entertainment, the BBC and FX have been great partners, supporting Taboo at every stage so it could be the dark, dirty brute of a drama that it is."
"I'm thrilled that a work which pushes boundaries has been so well received and found such a large and enthusiastic audience in the U.S. and Britain," said Steven Knight. "We have tried to take an impressionistic, rather than figurative, approach to a narrative which we hope more accurately portrays the spirit of an extraordinary time in history. James Delaney will continue to explore many realities as he takes his band of misfits to a new world, thanks to FX and the BBC, partners who could not be more suited to collaborating in ground breaking work."
"Taboo has been a phenomenal success and proves overnight ratings are not the only measure of success, as the series even now continues to grow beyond live viewing. Launching in a new Saturday night slot on BBC One provided us with an opportunity to take risks and showcase distinctive drama; and the growing talkability of Taboo has engaged younger audiences seeing record numbers coming to iPlayer, with the availability of the box set maximising audiences even further," said Charlotte Moore.
"In series two, Tom and Steve and the show's brilliant producers are promising something daring, different but equally unmissable and I'm delighted that the BBC is partnering with FX once again to roll Taboo out to audiences across the world," Piers Wenger added.