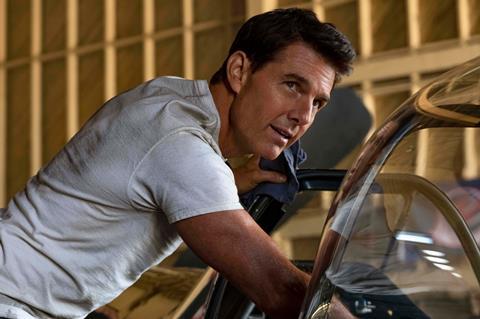 Top Gun: Maverick has grossed $19.3m from preview screenings in North America, putting the frequently delayed Tom Cruise sequel on course for a domestic opening in the $85m-$100m range for the four-day US holiday weekend.
The gross, which included revenue from a one-off fan event screening, was the biggest ever preview take for Paramount Pictures, which co-produced and co-financed the film with Skydance, and for a Memorial Day holiday weekend.
The sequel, which arrives 36 years after the original Top Gun and opens on 4,732 North American screens on Friday (May 27), will almost certainly become the biggest domestic opener ever for Cruise, whose previous best was the $64.9m grossed by War of the Worlds in 2005.
Internationally, Top Gun: Maverick is opening at 23,600 locations in 62 markets this weekend, with a gross of around $80m predicted by some observers. The global launch started with Wednesday (May 25) openings in some territories and takes in most major markets except for China and Russia.
The film's massive promotional push has included high-profile screenings at CinemaCon and the Cannes festival.
Cruise, whose title character is training a team of elite pilots for a special mission in the sequel, stars with Miles Teller, Jennifer Connelly and Jon Hamm. Joseph Kosinski directed and Jerry Bruckheimer, Cruise, Christopher McQuarrie and David Ellison produced.