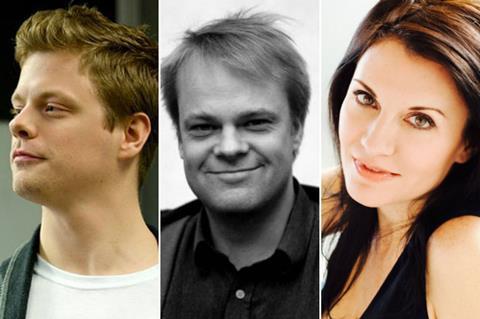 The Climb producer Noah Lang, Finnish Making Movies Oy chief Kaarle Aho and Canadian actress and producer Rebecca Gibson are among the 26 producers who will participate in the 11th edition of Trans-Atlantic Partners (TAP).
A joint initiative between Germany's Erich Pommer Institute (EPI) and the Canadian Media Producers Association (CMPA), with the support of Telefilm Canada and the Canada Media Fund, the two-part TAP programme is the only one of its kind devoted to supporting transatlantic film and high-end TV productions.
The first module runs in Berlin from June 21-26 and will be followed by a second session in the Canadian city of Halifax in September, where the participants will also attend FIN Partners, the co-production market of the Atlantic International Film Festival.
Lang will arrive in Berlin fresh from the high-profile premiere of The Climb in Cannes Un Certain Regard; Aho's latest productions include One Last Deal, which debuted at TIFF last year, while Gibson recent credits include the long-running true crime series Taken.
In addition to producers from the US, Canada and Europe, the programme will also include participants from India, Russia and Australia this year. They include Dheer Momaya at Mumbai-based Jugaad Motion Pictures which is in pre-production for Pan Nalin's upcoming drama The Last Film Show.
Industry experts due to take part in the 2019 edition include Pierre Even at Montreal-based Item 7 (The Hummingbird Project), Malte Grunert from German production company Amusement Park (The Aftermath, Land Of Mine), Diane Houslin of House Inc (The Long Fall, Masterclass) and Belgian executive Alain-Gilles Viellevoye of Belgan Productions (Kursk).
TAP director Jan Miller pointed out many of the experts had experience in both feature film and TV production. "In response, TAP has pulled together a top line-up of 13 experts exploring international co-production in both film and TV and giving invaluable feedback to specific projects," she explained.
Full list of selected producers
Europe
Kaarle Aho, Making Movies Oy, Finland
Jonathan Charbit, LightRunners Productions, UK
Stefan Eichenberger, Contrast Film, Switzerland
Arta Giga, Red Dot Media, Latvia
Barbara Healy, Tyrella Pictures, Ireland
Judith Lichtneckert, Snakefilm, Switzerland
Diana Mikita, Nafta Films, Estonia
Martin Persson, Anagram Sverige, Sweden
Andrea Schütte, Tamtam Film, Germany
Canada
Tara Boire, boomerang films
Kerri Borsuk, independent
Olena Fetisova, Vladolena Pictures Inc.
Rebecca Gibson, Eagle Vision
Élaine Hébert, micro_scope
Michelle Morris, Lily Pictures
Agata Smoluch Del Sorbo, Borrowed Light Films
Aonan Yang, GreenGround
US
Susan Dynner, Aberration Films
Noah Lang, Hexagon Studio
Esra Saydam, Sand&Snow Films
Alvaro Riccardo Valente, Genera Entertainment
Chunzi Wang, Carving Films
Keith Wright, BK Heights Productions
International
Robyn Kershaw, Robyn Kershaw Productions, Australia
Dheer Momaya, Jugaad Motion Pictures, India
Anastasia Pavlovich, Aquarium Films, Nightingale-Grey Group, Russia