Statement issued by creators and cast takes aim at Trump's "continued assault on the transgender community".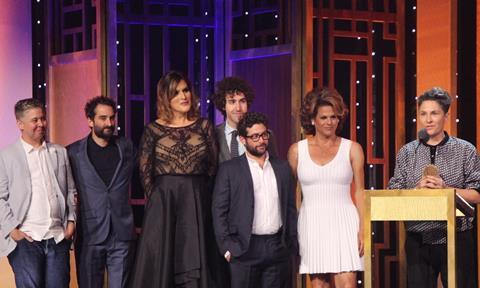 When Transparent returns for its fourth season on September 22, the show will not shy away from the political fray.
Jill Soloway and the cast of the Emmy-winning Amazon Studios series have issued a forceful rebuke of President Trump's proposed plan to ban transgender individuals from serving in the US military.
"We feel very lucky to get to make art inspired by themes of love, home and boundaries, and how they operate in both human beings as well as nations," the joint statement issued to People on Friday began.
"Sharing this work amidst President Trump's continued assault on the transgender community is painful. We are outraged that he announced in a tweet that transgender people would not be allowed to serve 'in any capacity' in the US military. It is reprehensible to deny an estimated 15,000 current trans service members, and 134,000 trans veterans, the dignity, respect and safety that they deserve," the statement continued.
"At Transparent we believe in the integrity of the trans community, which we know firsthand because we are all either trans or allies to the trans community. It is a revolutionary act for a trans person to simply leave the house and walk down the street. We tap into the incredible history of survival the trans community has achieved against all odds, knowing that our fight is noble and on the side of justice and human rights.
"To our trans community members serving in the military and to transgender veterans: We work in solidarity with you and will continue fighting and creating art for our community's well-being and future…our visibility and our stories are more important than ever."
The statement concluded by asking people to follow the work of GLAAD's Trump Accountability Project on social media.
Soloway, herself the child of a transgender parent, created Transparent aware that trans people did not have many organisations that were devoted solely to the trans identity.
Soloway recently told Screen: "One of the first things I realised about Transparent is that we were probably one of the largest international trans brands."
In the show, Jeffrey Tambor plays a transgender woman who comes out to her family at age 68. The series has been a pioneer in LGBTQ representation on television, both in front of and behind the camera.