Cinedigm to release Cannes sales title in North America in July.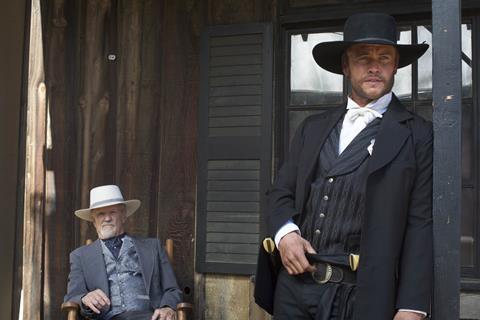 TriCoast Worldwide has acquired international rights to Timothy Woodward Jr.'s Hickok
TriCoast will screen and sell the western in Cannes, where one buyer will receive the cowboy hat worn by Luke Hemsworth who portrays Wild Bill Hickok in the film.
Cinedigm has North American rights to the film written by Michael Lanahan and will premiere Hickok day-and-date across the US on July 7.
Hickok is the story of legendary lawman and gunslinger, Wild Bill Hickok. Hickok is on the run from the law when he rides into Abilene, Kansas – the most hedonistic town west of the Mississippi.
In Abilene, Hickok is offered the position of Sheriff by the town's mayor, in hopes that his unparalleled shooting skills will tame the wildest cow-town in the West.
While delivering his own brand of frontier justice, the infamous hard-drinking gunfighter's reputation as the fastest draw in the west is put to the test.
Hemsworth, who most recently appeared in HBO's Westworld, will star in the film alongside Kris Kristofferson, Bruce Dern, and country music singer Trace Adkins.
Cameron Richardson, Kaiwi Lyman-Mersereau and Robert Catrini also star.
"Iconic Westerns with a good cast are timeless evergreen entertainment, and probably the best investment a buyer could make at this Cannes market," Strath Hamilton, CEO of TriCoast Worldwide said.
Woodward Jr. added: "Classic westerns hold a special place in my heart, so having the opportunity to bring such a compelling and iconic story to life was a real pleasure. It was such an incredible honour to work with two of the western genres living legends, Kris Kristofferson and Bruce Dern, and to watch Luke Hemsworth so successfully take on the challenge of portraying one of the west's most recognizable heroes. The entire cast really brought the old west to life."
Woodward Jr., Lauren de Normandie, Henry Penzi and Chris Nicoletti produced, while Benjamin Gerry, JD Seraphine, Kirk Peterson and Eric Peterson served as executive producers.
Tricoast Worldwide's Cannes slate also includes Lost Birds, Christmas Dreams, 3 Hikers, Black Gold, Miami Love Story, The Ghost And The Whale and 2 Pigeons.