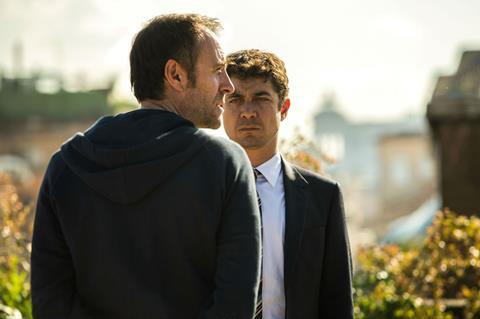 A little over two years after launching, True Colours has grown into one of the most important Italian sales companies.
This year, the company headed by former Rai Com exec Catia Rossi brings a strong line-up to the Cannes market, headlined by Valeria Golino's second directorial outing Euforia, which is playing in Un Certain Regard. The film stars Riccardo Scamarcio and Valerio Mastandrea as two brothers at odds who are forced to live together in Rome for a few months.
True Colours is also kickstarting sales on a pair of new comedies. The Handyman is the directing debut of screenwriter Valerio Attanasio (I Can Quit Whenever I Want) and stars Sergio Castellitto (Don't Move) in the role of a powerful lawyer exploiting his intern in every possible way.
Blessed Madness stars Italian comedy actor Carlo Verdone and Ilenia Pastorelli in a story of the depressed owner of a religious paraphernalia shop whose life is shaken up by the arrival of a brazen new female employee. The film did 1.3 million admissions at the Italian box office in January.
Also new to True Colours' slate is Francesco Falaschi's drama As Needed, produced by Notorious Pictures, in which a 40-year old chef with a troubled past (Vinicio Marchioni) is assigned to do community service as a cooking teacher for a group of people with autism, one of whom is hiding a great talent.
True Colours has also acquired sales rights for Costanza Quatriglio's upcoming drama Just Like My Son, produced by Ascent Film with Rai Cinema, Caviar and Antitalent. The film tells the story of a son trying to reunite with his mother after the Taliban persecution of the early 2000s forced them to separate.
Teen drama That's Life, the debut feature of Francesca Mazzoleni, produced by Warner Bros Italy and Indigo (The Great Beauty), is a coming-of-age story of love and friendship during the adolescence of four friends.
The only non-Italian film among the new titles on the company's slate is Distances, by Elena Trapé, a Spanish drama about a group of friends travelling to Berlin for one of their birthdays, who don't receive the welcomed they expected.
Also new to True Colours' slate are I'm Back, the Italian remake of Look Who's Back with Benito Mussolini in place of Adolf Hitler, directed by Luca Miniero (Welcome To The South); Just Believe, a comedy about the owner of a bed and breakfast who creates a brand new religion; Put Grandma In The Freezer, a black comedy about pensions and corpses; and Disconnected, a comedy about a group of friends isolated in a location where they have no mobile phone signal and are forced to relate to one another in the real world.