IBC: VFX veteran Douglas Trumbull claims the groundbreaking technology could revitalise the theatrical experience.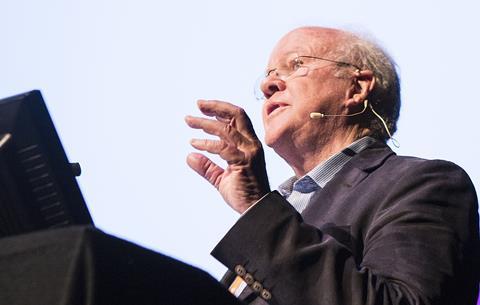 Director and VFX veteran Douglas Trumbull has urged filmmakers James Cameron, J.J Abrams and Peter Jackson to adopt his groundbreaking super high frame rate 3D production and presentation format in a bid to revitalise the theatrical experience.
At a screening of his experimental short UFOTOG, shot in 3D at 4K resolution and at 120 frames a second, projected for the first time using Christie Digital's 3D 6P laser projection system at trade show IBC today, Trumbull called on exhibitors and directors to embrace the format.
"Right now the technical standards of cinema are almost identical to the technology standard of TV," he said.
"There is very little difference between those two mediums and young people in particular are migrating away from movies because of the convenience of watching movies on a tablet.
"But if we can make an immersive motion picture spectacle of such power that it becomes a destination attraction it will last much longer in a theatrical run before it ever gets to TV."
Trumbull's patented process MAGI uses two cameras to shoot 60fps with the shutter on each lens opened alternately. When played back and in synch through existing 3D digital cinema projectors the frame rate can be increased to 120 fps, far above prevailing 24 fps presentation, to give a hyper-realistic look which Trumbull says is best experienced on giant format screens.
"It delivers extreme fluidity of motion and amazing clarity with no strobing, no double flickering and a viewing experience that far exceeds conventional movie quality," said Trumbull.
Showcase for top directors
His company, Trumbull Ventures, produced UFOTOG as a showcase for the possibilities of the medium, which is also presented with a Dolby Atmos soundtrack.
"The directors I talk to are very eager for this kind of innovation – Jim Cameron [who has said he intends to shoot the Avatar sequels at high frame rates] more than anyone. We're trying to find a way to screen UFOTOG for him and to show that he can have 120 fps with a single projector."
He suggested that if Cameron adopts MAGI then so will Abrams (Star Trek, Star Wars) and Jackson (Lord of the Rings, The Hobbit). "I hope this gets into hands of responsible people," he said.
Trumbull failed to get the industry to accept his 70mm 60 fps presentation system Showscan in the early '80s and believes studio inertia to change is still inhibiting adoption of advanced cinema technologies like higher frame rates.
"They think they can sell the same movies with a commonality of format to theatres and TV," he said. "I personally don't feel we should limit the creativity of filmmakers just for studios to milk the market downstream to Blu Ray, VOD or TV."
Laser projection
One key to the experience is the use of laser projection which significantly increases the light levels to the screen for 3D movies over existing Xenon lamp light source projectors.
"Christie and Dolby are the frontrunners in delivering laser projection and are in direct relationships with the studios and the exhibition community," he said.
"Exhibitors are eager to embrace new technology so I think we will have some success in seeding laser projection into theatres. Christie laser illuminated 3D finally achieves the level of brightness I've been arguing we needed for years."
Selective experience
He stressed that high frame rates was not necessarily right for every film. "Certain types of story told at 24 fps on modestly sized screens is fabulous," he said. "I'm not trying to change that – or threaten it.
"But if you want a different kind of experience harking back to spectacular giant screen movies like Lawrence of Arabia or 2001: A Space Odyssey [for which Trumbull co-created the VFX] then MAGI could be an appropriate way to make these kind of films."
Trumbull's last feature directorial outing was 1983's Brainstorm.
"What I want and hope is that I can make a movie again myself," he added.