Mohamed Siam, Emre Akay and Myriam El Hajj will be among the filmmakers heading to Turkey for the 14th edition of the Meetings on the Bridge project meeting, running April 11-12 within the framework of the 38th Istanbul Film Festival (April 5-16).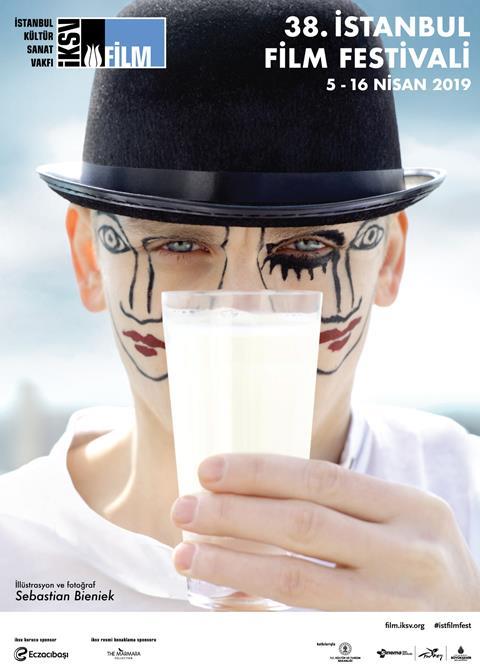 Egyptian documentarian Mohamed Siam, whose last feature Amal opened the International Documentary Festival Amsterdam (IDFA) in 2017, will present his first fiction feature project, Blood And Honey (Carnaval).
Siam describes it as comedy mixing ingredients from Amal – which followed a young female revolutionary – and his previous film Whose Country?, an up-close portrait of Egypt's feared plainclothes police officers.
He is producing under the banner of Artkhana Films alongside Paris-based producer Guillaume de Seille at Arizona Films.
It is one of seven projects in development being presented in the Neighbours Platform, aimed at upcoming works from countries neighbouring Turkey.
It has already picked up development prize money at the co-financing events run by the Cinemed festival in France and Tunisia's Journées Cinématographiques de Carthage.
Other projects in that selection include Lebanese filmmaker Myriam El Hajj's drama Commedia about a female comedian who tries to get to the bottom of a terrorist bomb attack in which her politician father is a key suspect
Coming up against the macho world of Lebanese politics and corruption, her investigation becomes an inner quest to overcome the two main men in her life, her father and her lover.
It is El Hajj's debut fiction film after her documentary A Time To Rest, in which she interviewed relatives about the personal legacy of their days as Christian Militia fighters in the 1975-1990 Lebanese Civil War.
Myriam Sassine at Beirut-based Abbout Productions is producing.
Works in Progress
A Works in Progress section will showcase another eight films in post-production, from Turkey and other neighbouring countries.
Turkish projects include Emre Akay's honour killing-themed thriller The Hunt about a young woman on the run from her male relatives after she is caught in bed with a man.
Kivanç Zezer will present his second feature La Belle Indeference. It is the second film in a trilogy of works revolving around the urbanisation of Turkish society, which kicked off with My Father's Wings.
That film revolved around a student who takes a job on a construction site where tragedy strikes. The second film follows a middle-class couple which moves into the building being constructed in the first film.
Zezer is also producing alongside Hatip Karabudack, Kanat Dogramaci and Tolga Karaçelik, winner of the world cinema grand jury prize at Sundance in 2018.
Award-winning director Pelin Esmer will also attend with her documentary Queen Lear about a group of women who decide to stage Shakespeare's classic play in their mountain village.
Producers workshop
Other side events with include the Creative Producing Workshop, a joint venture between Meetings on the Bridge and US cultural exchange organisation Global Media Makers (GMM).
US producers Karin Chien (Circumstance, The Exploding Girl) and Rebecca Green (It Follows, I'll See You In My Dreams) will lead the workshop aimed at supporting emerging producers in Turkey.
The full-list of projects:
Neighbours Platform
Blood And Honey (Carnaval) (Egypt), Director: Mohamed Siam, Producers: Mohamed Siam, Guillaume de Seille – Arizone Production, Artkhana Films
Samgle (Georgia), Director: Iva Fezuashvili, Producers: Tinatin Kajrishvili, Lasha Khalvashi – Artizm , Gemini
Death of Sohrab (Iran), Director: Masoud Soheili, Producers: Alireza Shojanoori, Ajay Rai – In Front of the Top of the Bottom Films
Commedia (Lebanon), Director: Myriam El Hajj, Producer: Myriam Sassine – Abbout Productions·
Visa (Lebanon), Director: Dima Al-Joundi, Producer: Passola Isona – Massa D'or
Horia (Romania), Director: Ana-Maria Comanescu, Producer: Ada Solomon – Micro Film
Lesia Ukrainka (Ukraine), Director: Nana Janelidze:, Producer: Julia Sinkevych – JS Films LLC
Work in Progress - Turkish Selection
The Hunt, Director: Emre Akay, Producer: Diloy Gülün – Karma Film
La Belle Indeference, Director: Kıvanç Sezer, Producers: Hatip Karabudak, Kıvanç Sezer, Kanat Doğramacı, Tolga Karaçelik – Zebra Productions, Asteros Film, Karaçelik Film
It's All About Peace and Harmony, Director: Nesimi Yetik, Producer: Betül Esener – Özminimalist Film
Miss Holocaust Survivor, Director: Eytan İpeker, Producers: Yoel Meranda, Eitan Mansuri, Katrin Pors – Kamara Spiro Films, Snowglobe)
Queen Lear, Director: Pelin Esmer, Producer: Dilde Mahalli – Sinefilm)
Work in Progress - Neighbours Selection
Entwined (Greece), Director: Minos Nikolakakis, Producers: Lilette Botassi, Panos Bisdas, Giorgos Georgopoulos, Kostas Koutsoliotas – Inkas Films, Authorwave, Multivision, Melancholy Star
House of Dolls (Romania), Director: Tudos Platon, Producers: Ada Solomon, Alexandru Solomon, Carla Fotea, Tudos Platon – Micro Film, Film Cartel
Yaban (Afghanistan), Director: Tarq Daoud, Producers: Xavier Derigo, Çiğdem Mater – IDIP Films, Ret Film