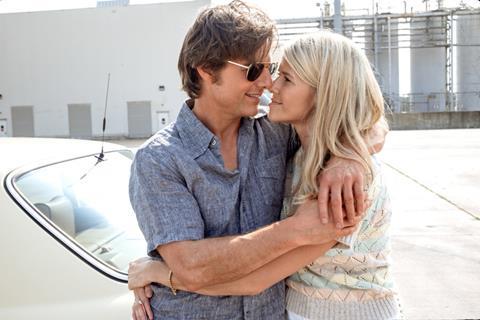 | Ranking | Film/Distributor | Weekend gross | Running total |
| --- | --- | --- | --- |
| 1 | American Made (Universal) | $1.38m (£1.06m) | $1.74m (£1.34m) |
| 2 | Dunkirk (WB) | $1.29m (£994,000) | $67.33m (£51.95m) |
| 3 | The Hitman's Bodyguard (Lionsgate) | $1.14m (£883,026) | $5.69m (£4.39m) |
| 4 | Logan Lucky (Studiocanal) | $910,444 (£702,557) | $1.18m (£912,172) |
| 5 | The Emoji Movie(Sony) | $882,657 (£681,000) | $13.87m (£10.7m) |
(Note - Dollar conversions are based on today's rates)
Universal
American Made opened to $1,742,151 (£1,344,948) including the bank holiday (with a few sites still waiting to report), posting $1,381,091 (£1,065,918) Fri-Sun from 543 sites, making it a Fri-Sun site average of $2,543 (£1,963).
Even taking into account that it's the widest release for a Doug Liman film, that's a poor site average which compares unfavourably with the likes of Liman's Mr. & Mrs. Smith, Jumper, The Bourne Identity and Edge Of Tomorrow, despite the star power of Tom Cruise.
In comparison, Cruise's other recent UK release, The Mummy, opened with $4.25m (£3.34m) from its 575 sites, a site average of $7,400 (£5,811).
The film's opening does beat director Liman's recent release The Wall, which had a limited release in July, and his 2010 drama Fair Game, which grossed $394,125 (£304,297) but only opened at 256 sites.
Girls Trip continued to impress, adding $421,104 (£325,127) for $10.78m (£7.78m) to date, while Atomic Blonde posted $134,511(£103,780) for $4.61m (£3.56m) to date.
Despicable Me 3 added $512,239 (£395,210) for a cume of $57.64m (£44.48m).
Warner Bros
Dunkirk added $1.29m (£994,000) Fri-Sun for a total of $67.33m (£51.95m) to date. That makes it the 25th highest-grossing film in the UK of all time.
Annabelle: Creation added $863,123 (a spooky £666,000) for a cumulative total of $8.50m (£6.56m).
Everything Everything added $243,644 (£188,000), for a total of $1.57m (£1.21m).
Studiocanal
Steven Soderbergh's Logan Lucky opened Fri-Sun with $910,444 (£702,557) from 282 sites, an average of $3,228 (£2,491). That figured increased to $1.18m (£912,172) after the bank holiday Monday.
The release is smaller than pre-retirement Soderbergh releases such as Magic Mike and Haywire, and the site average is down on those releases too. The closest comparison would be Side Effects in 2013, which opened with $1.18m (£911,315) from 351 screens and went on to gross $6.51m (£5.02m).
Lionsgate
The Hitman's Bodyguard added $1.14m (£883,026) Fri-Sun for a running total of $5.69m (£4.39m).
Sony
The Emoji Movie had a strong hold over the bank holiday, grossing $882,657 (£681,000) over the weekend and an extra $247,559 (£191,000) on Monday. The film now sits on $13.87m (£10.7m).
Dark Tower added $413,392 (£319,000) Fri-Sun and $115,335 (£89,000) on Monday for gross to-date of $2.72m (£2.1m).
New-opener Rough Night sank heavily with a gross of just $316,199 (£244,000) Fri-Sun and $85,529 (£66,000) on Monday from 357 sites, a site average over the four days of just $1,124 (£868). The film sits on $401,729 (£310,000).
Spider-man: Homecoming added $317,495 (£245,000) for a lifetime of $38.49m (£29.75m).
eOne
Detroit took $723,374 (£558,168) over Fri-Sun, adding to $128,650 (£99,269) in previews, which took its overall opening figure to $852,023 (£657,436). That's Bigelow's third best debut in the UK, behind Point Break and Zero Dark Thirty.
The film opened on 378 sites, making for a site average of $2254 (£1739). That's a relatively low site average for a Bigelow film, but it does better the site averages of K-19: The Widowmaker and Blue Steel.
Disney
Cars 3 grossed $176,253 (£136,000) Fri-Sun and $242,996 (£187,500) including the bank holiday – that puts it on $13.87m (£10.7m) to date.
BFI
Hotel Salvation opened to $19,554 (£15,080) and scored a total of $26,502 (£20,438) including the bank holiday Monday.
Upcoming releases
Next week's releases include Fox's Patti Cake$, Picturehouse Entertainment's God's Own Country, Lionsgate'sThe Limehouse Golem, Vertigo's Stratton, and Thunderbird Releasing's Una.