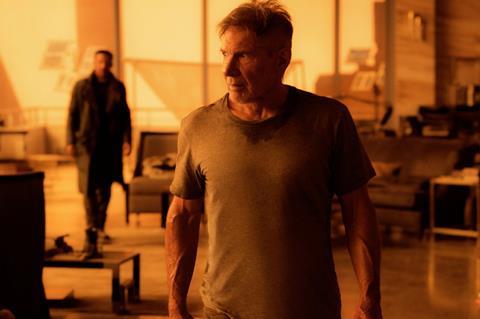 UK TOP FIVE
| Ranking | Film/Distributor | Weekend gross | Running total |
| --- | --- | --- | --- |
| 1 | Blade Runner 2049 (Sony) | $8m (£6.1m) | $8m (£6.1m) |
| 2 | Kingsman: The Golden Circle (Fox) | $2.76m (£2.11m) | $25.5m (£19.45m) |
| 3 | It (WB) | $1.05m (£802,000) | $40.6m (£30.96m) |
| 4 | The Mountain Between Us (Fox) | $1m (£776,367) | $1m (£776,367) |
| 5 | Victoria And Abdul (Universal) | $604,000 (£460,698) | $10.8m (£8.23m) |
(Note - Dollar conversions are based on today's rates)
SONY
Performing comparatively better in the UK than in the US, Blade Runner 2049 dethroned Kingsman: The Golden Circle to debut top.
Sony's sci-fi sequel landed with a decent $8m (£6.1m) from its 630 sites, including $1.18m (£900,000) from Thursday (October 5), marking a healthy site average of $12,696 (£9,683).
Going by the industry-accepted rule of a UK opening being 10% of a US bow in pounds, Blade Runner 2049's bow was some way ahead of the £3.15m debut that would be expected from the estimated US bow of $31.5m
That marks director Denis Villeneuve's best-ever UK opening by some distance and Blade Runner 2049 will soon become his highest grossing film, currently Arrival's $12.7m (£9.7m) haul.
Comparisons to Blade Runner aren't useful given it opened back in 1982, but the sequel compares favourably to the bows of recent ambitious sci-fi movies Gravity ($8.2m/£6.24m from 539) and Interstellar ($7.1m/£5.38m from 574).
Also for Sony, Flatliners dropped 60% with a $254,000 (£194,000) second weekend for $1.24m (£949,000) to date, while The Emoji Movie has now grossed $19.1m (£14.6m) after ten weeks in play.
FOX
As expected, Kingsman: The Golden Circle is now director Matthew Vaughn's highest grossing UK release.
Fox's action sequel fell 50% with a non-final $2.76m (£2.11m) for $25.5m (£19.45m) to date, and should at least hit £25m before it finishes its UK run as long as it avoids steep drops.
Also for Fox, The Mountain Between Us charted fourth as it journeyed to a non-final UK debut of $1m (£776,367) from its 423 sites, marking a site average of $2,406 (£1,835), and will look to post solid midweek numbers.
Goodbye Christopher Robin dropped 49% with a $518,000 (£395,415) second weekend for $2.28m (£1.74m) to date.
Captain Underpants and Judwaa 2 have grossed $10.5m (£8.02m) and $458,000 (£349,246), respectively.
WARNER BROS
Ahead of its nationwide opening this Friday (October 13), The Lego Ninjago Movie banked $1.95m (£1.48m), although it won't be counted in this week's chart.
Warner Bros' latest outing in the popular animated series will likely post the lowest opening of the series to date, with The Lego Batman Movie and The Lego Movie grossing $3.2m (£2.45m) and $2.88m (£2.2m) from their previews, respectively.
Also for Warner Bros, It fell 54% with a $1.05m (£802,000) fifth weekend for $40.6m (£30.96m) to date, making it the seventh release of 2017 to cross the £30m milestone.
UNIVERSAL
Rounding off this week's top five, Universal's Victoria And Abdul fell 51% on its way to $604,000 (£460,698) for $10.8m (£8.23m) after four weeks in play.
Also for Universal, Despicable Me 3 has now amassed a terrific $61.7m (£47.06m).
STX INTERNATIONAL
Dropping a hefty 64% in its second weekend, STX International's Home Again added $229,000 (£174,799) for $1.25m (£952,035) after ten days in play.
EONE
In its fourth weekend, eOne's The Jungle Bunch fell a steep 65% as it swung to $138,000 (£105,342) for $1.58m (£1.2m) to date.
LIONSGATE
In its third week of release in Ireland, Lionsgate's Maze dropped only 34% as it uncovered another $116,000 (£88,765) for a strong $683,000 (£521,183) so far.
Also for Lionsgate, The Glass Castle posted a soft UK debut of $65,000 (£49,214) from its 82 sites, marking a site average of only $787 (£600), while American Assassin has reached $2.37m (£1.81m) after four weeks in play.
UPCOMING RELEASES
This week sees saturation releases for Warner Bros' The Lego Ninjago Movie, Universal's The Snowman and eOne's The Ritual.
Picturehouse Entertainment's The Party and Pinpoint's Double Date both receive wide releases, while Altitude's Loving Vincent and Vertigo Releasing's Boy are among the films receiving a limited release.