Universal's Fifty Shades Darker leads Fri-Sun with second-biggest 18-rated debut of all time.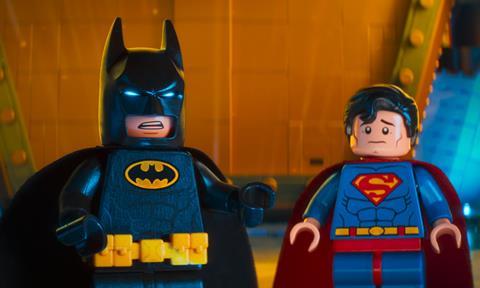 UK TOP FIVE
| Ranking | Film/Distributor | Weekend gross | Running total |
| --- | --- | --- | --- |
| 1 | The Lego Batman Movie (WB) | $9.88m (£7.9m) | $9.88m (£7.9m) |
| 2 | Fifty Shades Darker (Universal) | $9.45m (£7.56m) | $9.45m (£7.56m) |
| 3 | Sing (Universal) | $2.91m (£2.32m) | $22.8m (£18.21m) |
| 4 | T2 Trainspotting (Sony) | $1.75m (£1.4m) | $16.9m (£13.5m) |
| 5 | La La Land (Lionsgate) | $1.18m (£942,787) | $33.1m (£26.49m) |
(Note - Dollar conversions are based on today's rates)
WARNER BROS
Thanks to last weekend's previews, The Lego Batman Movie has landed top of the UK box office.
Warner Bros' animation swung to a $9.88m (£7.9m) debut from its 600 sites, including $2.95m (£2.36m) in previews. Its Fri-Sun tally of $6.93m (£5.54m) would have seen it chart second.
Its debut is pretty much on par with The Lego Movie's $10.1m (£8.05m) from 547 sites, including $2.75m (£2.2m) in previews, before going on to take an excellent $42.9m (£34.3m) in the UK.
With school holidays this week, The Lego Batman Movie should have a prosperous first week despite competition from Sing, but its holdover will give an indication if it can come close to its predecessor's total.
UNIVERSAL
Fifty Shades Darker might have missed out on the official top spot, but did lead the market across Fri-Sun.
Universal's raunchy sequel whipped up $9.45m (£7.56m) from its 605 sites, which is some way down on Fifty Shades Of Grey's $17m (£13.55m) from 586 sites, but that film did benefit from being released over Valentine's Day.
The opening marks the second-biggest debut for an 18-rated film of all time at the UK box office and while it won't match its predecessor's $43.9m (£35.1m), Darker's decent start gives it a shot at £20m.
Also for Universal, Sing fell almost 40% with a $2.91m (£2.32m) third weekend for a healthy $22.8m (£18.21m) to date. As with Lego Batman, the school holidays will see a boost in midweek returns.
Split is edging towards £10m as an $854,000 (£682,691) fourth weekend lifted it to $12m (£9.58m) so far, while Loving dropped 60% with $121,000 (£96,487) for $666,000 (£532,692) after ten days in play.
SONY
T2 Trainspotting fell 52% with a $1.75m (£1.4m) third weekend as it dropped to fourth.
Sony's long-awaited sequel has now journeyed to $16.9m (£13.5m), surpassing Trainspotting's $15.5m (£12.43m) result and will hope to be close to £15m by the end of this coming weekend.
Also for Sony, Resident Evil: The Final Chapter dropped a huge 80% with a $119,000 (£95,000) second weekend for a soft $1.05m (£840,000) to date.
Billy Lynn's Long Halftime Walk struggled to a $19,000 (£15,000) debut from its 90 sites, marking one of the lowest-ever UK openings for director Ang Lee.
LIONSGATE
Bafta winner La La Land fell 48% with a $1.18m (£942,787) fifth weekend.
Lionsgate's musical has now danced to a dazzling $33.1m (£26.49m) and will hope that continued awards recognition can push it past £30m.
Also for Lionsgate, Hacksaw Ridge dropped 49% with a $532,000 (£425,648) third weekend for $5.37m (£4.29m) to date, and has now overtaken Apocalypto's $5.14m ($4.11m) result.
ENTERTAINMENT
Lion continued its excellent UK run with a minimal drop of 14% (the lowest in the top ten) as it travelled to a $945,000 (£754,386) fourth weekend.
Entertainment's drama has now grossed a sturdy $8.06m (£6.43m) and with Dev Patel's surprise Bafta win, it could even get a timely awards lift over the coming week.
Also for Entertainment, The Space Between Us posted an unspectacular $324,000 (£258,401) UK debut from its 250 sites.
It did at least avoid becoming director Peter Chelsom's lowest debut, which remains Hector And The Search For Happiness' $300,000 (£240,117) from 279 sites.
PARAMOUNT
With a hefty drop of 67%, Paramount's Rings scared up a non-final $339,000 (£271,000) for $1.83m (£1.46m), and will end its run as the lowest-grossing outing of the trilogy.
Also for Paramount, Fences enjoyed a strong start to its UK run with $128,000 (£102,000) from its limited opening at 21 sites, marking a $6,076 (£4,857) site average. It expands nationwide from this Friday (February 17).
EONE
In its fourth weekend, eOne's Jackie added $220,000 (£175,496) from its 309 sites for $3.8m (£3.03m) to date, overtaking fellow awards contender Manchester By The Sea.
Also for eOne, 20th Century Women scored a $75,000 (£60,202) UK debut from only 13 sites for a site average of $5,793 (£4,631), and is set for an expansion this Friday.
FOX
For Fox, Bollywood sequel Jolly LLB 2 recorded a non-final UK bow of $172,000 (£137,863) from its 67 sites, while Trolls has now grossed $30.3m (£24.23m) to date.
Also for Fox, Hidden Figures started previewing at 36 sites from Friday (February 10) and took a non-final $93,000 (£74,585). Overall, it has so far accumulated $194,000 (£154,984), which will be added to its official opening.
DISNEY
Falling 40% in its 11th week, Disney's Moana sailed to an extra $128,000 (£102,000) for $23.6m (£18.9m) to date.
Also for Disney, Rogue One: A Star Wars Story has now amassed a stellar $82.3m (£65.8m).
SODA PICTURES
Expanding slightly to 45 sites, Soda Pictures' Toni Erdmann took a further $104,000 (£83,407) for $404,000 (£322,965) after ten days in play.
STUDIOCANAL
In its fifth week, Studiocanal's best picture contender Manchester By The Sea grossed $80,000 (£64,147) for $3.57m (£2.86m).
Also for Studiocanal, Gold fell a mighty 90% with a $50,000 (£40,202) second weekend for $882,000 (£705,216).
KALEIDOSCOPE
From its 44 sites through Kaleidoscope, Alice Lowe's directorial debut Prevenge delivered a UK debut of $38,000 (£30,118), including $19,000 (£14,802) in previews.
UPCOMING RELEASES
This week sees saturation releases for Studiocanal's The Founder, Warner Bros' John Wick: Chapter 2, Universal's The Great Wall and Fox's Hidden Figures.
Altitude's Moonlight receives a wide release, while Curzon Artificial Eye's Lost In France and Park Circus' re-release of Multiple Maniacs are among the films receiving a limited release.