It's a busy weekend at the UK box office, with several big titles looking to make a splash.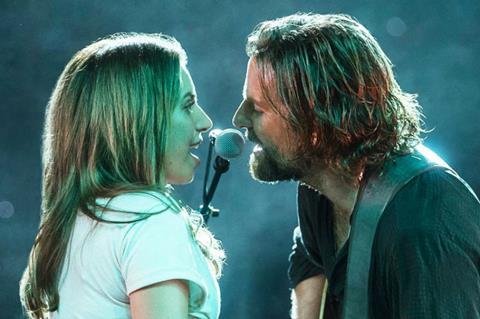 Warner Bros will have high hopes for A Star Is Born, Bradley Cooper's remake of the famous Hollywood property in which he stars alongside Lady Gaga, one of the musician's first acting roles.
The film went down a storm at this year's Venice Film Festival where it played out of competition. The story sees Cooper playing a musician who helps a young singer find fame while his own career takes a downward spiral. The previous versions starred Janet Gaynor and Fredric March (1937), Judy Garland and James Mason (1954), and Barbra Streisand and Kris Kristofferson (1976).
Cooper himself isn't a guaranteed box office draw and has had mixed fortunes in the UK, Burnt struggled with a £1.1m UK total, but American Sniper fared better with £13.7m. However, the star power of Lady Gaga, whose previous roles include Sin City: A Dame To Kill For and Machete Kills, should boost admissions this week.
Coming up against A Star Is Born are two titles backed up by recent history of UK box office success.
Johnny English Strikes Again, released in the UK by Universal, will look to emulate the success of the two previous editions in the series, which stars Rowan Atkinson as a hapless British spy.
The original film in 2003 opened with £3.4m and topped out at £19.7m, while sequel Johnny English Reborn got underway with £5m and ended on £20.7m.
Sony Pictures has Venom, a spin-off from the Spider-man franchise taking place outside of the Marvel cinematic universe (The Avengers etc).
The Spider-man franchise has typically delivered big numbers in the UK, most recently with the Tom Holland-starring reboot, which grossed £30.7m after being released in July last year. Historical totals include the Toby Maguire-starring Spider-Man (£29m in 2002), Spider-Man 2 (£26.7m in 2004), Spider-Man 3 (£30.7m in 2007), and then the Andrew Garfield-starring reboots The Amazing Spider-Man (£26m in 2012), and The Amazing Spider-Man 2 (£24m in 2014).
Venom has the added value of having Tom Hardy in the lead, he previously appeared as the antagonist in fellow superhero film The Dark Knight Rises (£56.3m in the UK) but its long-term prospects could be damaged by tough reviews.
Also on release this weekend is Peccadillo Pictures' Tehran Taboo, Ali Soozandeh's animation that premiered in Cannes Critics' Week in 2017, Lionsgate's Blindspotting, Carlos López Estrada's comedy-drama from Sundance 2018, Dogwoof's Kusama – Infinity, which follows Japanese artist Yayoi Kusama and also from Sundance 2018, Network Releasing's Columbus, which was at Sundance and Rotterdam in 2017, and Signature's Blue Iguana starring Sam Rockwell.
This week, Curzon's Cold War became the first foreign language arthouse title of the year to cross £1m in the UK. The film achieved the figure in its fifth week of play, while it has also become only the second day-and-date title to cross the threshold after 45 Years, and Curzon Home Cinema's second highest grossing title of all time. Last year, only one such title crossed the £1m mark, The Handmaiden, also from Curzon.
Key holdover's include Universal's Night School, eOne's The House With A Clock In Its Walls, Lionsgate's A Simple Favour, Warner Bros' Crazy Rich Asians and The Nun, and Picturehouse Entertainment's The Wife.