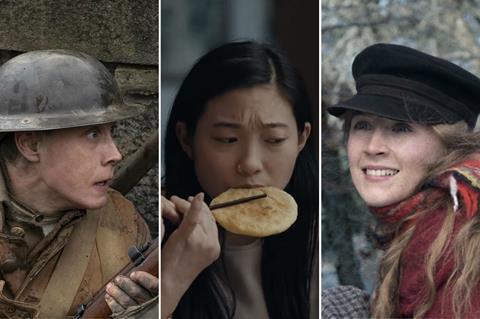 The UK box office in 2020 is showing significant improvement on 2019: up 18% for the first seven weeks of the year (January 3 to February 20 inclusive), compared to the equivalent period a year ago. The numbers were announced at the launch of the Film Distributors' Association yearbook in London today (February 26).
Particularly strong box office for awards-season titles such as eOne's 1917 (£41.6m so far) is underpinning the strong performance. Sony's Little Women, released December 26, has grossed £21.6m – much of it in 2020 calendar year.
Further strong performers for January and February at UK cinemas include Sony's Bad Boys For Life (£15.3m), Paramount's Sonic The Hedgehog (£14.7m in 10 days), Universal's' Dolittle (£14.1m), Entertainment's The Gentlemen (£11.8m) and Curzon/Studiocanal's Parasite (£8.4m).
While the UK cinema sector is encouraged by the performance, it is worth noting both January and February were notably weak for UK cinemas in 2019. For the first eight weeks of 2019, UK box office was 23% down on the equivalent period of 2018.
2019 at the UK box office
The number of titles released in the UK in 2019 fell to 896, the lowest since 2015, and the first time since that year that the number has fallen below 900, according to statistics in the FDA Yearbook. 2018 had seen a record number of titles released: 916, an average of 18 a week.
2019 witnessed continued growth in the documentary space, with total UK box office for the sector totalling £10.4m. This is up from £7.2m in 2018 and £4.2m in 2017.
Event cinema also showed significant growth in 2019, reaching record box office of £45.3m, not including Secret Cinema. That compares with £33.1m for event cinema in 2018 and £30.5m in 2017.
In 2019, 11 event cinema titles grossed £1m at the UK box office, which compares with just four in 2018. Including Secret Cinema, event cinema grossed £53.7m, up 30% on 2018, and accounting for 4% of the total UK box office.
The Bollywood sector experienced a disappointing 2019 at UK cinemas, with no single title reaching £1m. The top 15 titles collectively grossed £8.4m. In 2015, Bollywood peaked in the UK with the top 15 titles grossing £13.4m.
Non-Bollywood foreign- language film performed much better, with the top 15 titles delivering a 13% rise on 2018, powered by hits including Pain And Glory and The Farewell.
Two films primarily targeting the UK's Chinese population (Better Days and My People My Country) made this top 15 chart (in addition to The Farewell). So too did three films primarily targeting the UK's Polish population.
Notable by their absence from the top 15 foreign language chart in 2019 are any films distributed by Curzon Artificial Eye – traditionally the dominant player in the foreign- language arthouse space.