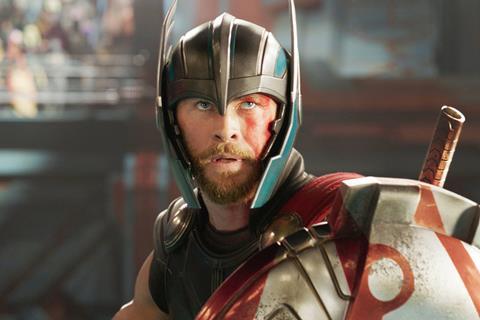 (Note - Dollar conversions are based on today's rates)
UK TOP FIVE
| Ranking | Film/Distributor | Weekend gross | Running total |
| --- | --- | --- | --- |
| 1 | Thor: Ragnarok (Disney) | $16.3m (£12.4m) | $16.3m (£12.4m) |
| 2 | Jigsaw (Lionsgate) | $2.43m (£1.85m) | $2.43m (£1.85m) |
| 3 | The Lego Ninjago Movie (WB) | $1.17m (£888,000) | $10.8m (£8.21m) |
| 4 | The Death Of Stalin (eOne) | $1.07m (£812,000) | $3.3m (£2.5m) |
| 5 | Blade Runner 2049 (Sony) | $914,000 (£692,999) | $23m (£17.42m) |
DISNEY
Having opened on Tuesday (October 24), Disney's Thor: Ragnarok was always going to land top, it was just a question of how big it would be.
The result? An excellent six-day opening of $16.3m (£12.4m) from its 610 sites, including $6.8m (£5.14m) from Tues-Thurs, marking the fourth biggest opening of the year behind Beauty And The Beast, Fast & Furious 8 and Guardians Of The Galaxy Vol. 2.
It also marked the biggest non-Bond October opening of all time at the UK box office, although its Fri-Sun tally of $9.5m (£7.23m) doesn't rank among the top five Fri-Sun debuts of 2017.
In terms of Marvel outings in the UK, Thor: Ragnarok enjoyed the sixth biggest debut, both in terms of Fri-Sun and overall openings, and it will easily overtake Thor's $18.5m (£14.04m) and Thor: The Dark World's $26.5m (£20.13m) results.
Thor: Ragnarok also enjoyed the ninth biggest opening for a superhero film of all time at the UK box office, ahead of Spider-Man 3's $15.6m (£11.83m).
LIONSGATE
Seven years after Saw 3D, Jigsaw arrived in time for Halloween and charted second.
Lionsgate's horror sequel sliced to $2.43m (£1.85m) from its 462 sites, including $465,000 (£353,343) from Thursday (October 26), marking a healthy site average of $5,270 (£4,005).
In terms of the series to date, Jigsaw only managed to top the debuts of Saw and Saw VI and its first target will be to surpass Saw VI's $7.1m (£5.4m) result, currently the lowest-grossing outing of the series.
Also for Lionsgate, My Little Pony fell a slim 21% with a $819,000 (£622,579) second weekend for $3.38m (£2.57m) to date, taking $1.36m (£1.03m) across the Mon-Thurs of half term.
WARNER BROS
The Lego Ninjago Movie fell 34% with a $1.17m (£888,000) third weekend following a prosperous half term.
Warner Bros' animation assembled $2.32m (£1.76m) across Mon-Thurs of the school holiday, meaning it has now reached $10.8m (£8.21m) to date, still some way short of the previous two films.
Also for Warner Bros, Geostorm fell a steep 59% on its way to a $867,000 (£659,000) second weekend and has now whipped up $4.4m (£3.35m).
It stands at $42.4m (£32.24m).
EONE
Expanding to 316 sites, The Death Of Stalin fell only 10% (excluding previews) with a non-final $1.07m (£812,000) second weekend as it climbed to fourth.
eOne's critically acclaimed comedy hit is now up to $3.3m (£2.5m) and has already surpassed director Armando Iannucci's In The Loop's final UK result of $2.84m (£2.16m).
SONY
Falling 61% in its fourth weekend, Sony's Blade Runner 2049 rounded off this week's top five with $914,000 (£692,999) for a strong $23m (£17.42m) to date.
Also for Sony, critically acclaimed romance Call Me By Your Name enjoyed a $306,000 (£231,995) debut from its 112 sites, missing out on being director Luca Guadagnino's best-ever UK bow which remains A Bigger Splash's $458,000 (£347,704) from 101 sites.
STX INTERNATIONAL
London Film Festival opener Breathe scored STX International's biggest UK debut to date.
Andy Serkis's directorial debut grossed $704,000 (£535,297) from its 464 sites, including previews, and will hope to do decent business midweek due to its older-skewing audience.
UNIVERSAL
Falling a steep 56%, Universal's Happy Death Day scared up a $572,000 (£434,725) second weekend for $2.84m (£2.16m) to date, and will at least hope to pull in the teen horror crowd this week for Halloween.
Also for Universal, The Snowman added $146,000 (£110,625) for $4.14m (£3.15m) after three weeks in play, while Victoria And Abdul has now amassed $12.7m (£9.67m).
Despicable Me 3 is now Illumination Entertainment's second biggest UK release with $62.6m (£47.56m), topping Despicable Me 2.
FOX
In its sixth week, Fox's Kingsman: The Golden Circle shot to a further non-final $490,000 (£372,368) for a decent $31.9m (£24.25m) to date.
Also for Fox, Captain Underpants, The Mountain Between Us and Goodbye Christopher Robin stand at $11m (£8.33m), $3.34m (£2.54m) and $3.58m (£2.72m), respectively.
TRAFALGAR RELEASING
Following a preview event on Wednesday (October 25), Trafalgar Releasing's Grace Jones: Bloodlight And Bami posted an overall UK debut of $127,000 (£96,621), taking $20,000 (£15,249) from its 13 sites over the weekend.
PICTUREHOUSE ENTERTAINMENT
In its third weekend, Picturehouse Entertainment's The Party added $105,000 (£79,645) for $1.06m (£803,397) to date.
ALTITUDE
Falling a slim 17%, Altitude's Loving Vincent recorded a $81,000 (£61,182) third weekend for $785,000 (£594,681) and will look to overtake Anomalisa's $971,000 (£736,000) by the end of its run.
VERTIGO RELEASING
From its one-site release through Vertigo Releasing, Base posted a UK debut of $2,400 (£1,812).
UPCOMING RELEASES
This week sees saturation releases for Fox's Murder On The Orient Express, Entertainment's A Bad Moms Christmas and Studiocanal's The Son Of Bigfoot.
Curzon Artificial Eye's The Killing Of A Sacred Deer and Universal's Conor McGregor: Notorious both receive a wide release, while Dogwoof's 78/52 and Thunderbird Releasing's Thelma are among the films receiving a limited release.