Tommorrow: The Palm Dog Awards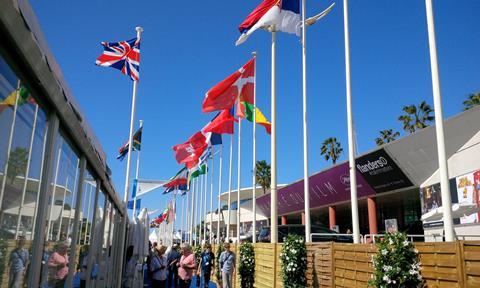 The line-up for the UK Film Centre at this year's Cannes Film Festival (May 18-27) includes a talent talk with the producers of Yorgos Lanthimos' The Killing Of A Sacred Deer, a discussion about Brexit and a panel on attracting world-class talent (hosted by Screen International editor Matt Mueller).
The UK Film Centre is run by We Are UK Film, whose partners include the British Film Institute (BFI), the British Film Commission (BFC), British Council, Creative Scotland, Film London and Northern Ireland Screen.
The UK Film Centre will be in Cannes from May 17-26 at Pavilion 119 of the International Village Riviera and is open for international and UK delegates from 9am – 6pm.
The full events line-up is below:
TUESDAY 23RD
Talent Talk: I Am Not A Witch: 14.00 - 15.00
Producers Juliette Grandmont and Emily Morgan reveal how they made Rungano Nyoni's debut feature as a France-UK-Zambia co-production. It makes its world premiere in Directors' Fortnight. Chair: Matimba Kabalika, NETWORK Manager, BFI
FRIDAY 26TH
The Palm Dog Awards: 13.00 - 14.00
The 17th Palm Dog Awards will be celebrating dogs as part of the 70th Cannes Film Festival.
Previous events
THURSDAY 18TH
Films without Borders (screening)
A showcase of films from young people living in challenging circumstances around the globe. The films are; Tales From Lebanon (Lebanon) and Being Maasai (Amboseli, Kenya).
FRIDAY 19TH
Brexit Briefing
UK industry experts talk you through the key issues surrounding Brexit and what we know so far. Chaired by Isabel Davis, Head of International, BFI Film Fund
Talent Talk: The Killing Of A Sacred Deer
Film4's Sam Lavender and Element Films' Ed Guiney and Andrew Lowe discuss working together to develop Yorgos Lanthimos' biggest film to date and Competition title, The Killing Of A Sacred Deer, starring Nicole Kidman and Colin Farrell.
Feels Like The First Time: How to get your first feature on the international festival circuit (In association with British Council)
Sundance Film Festival director John Cooper, Departure producer Pietro Greppi and Giona A. Nazzaro, general delegate for Venice Film Festival's Critics' Week, give advice for first time filmmakers. Chaired by Wendy Mitchell, film programme manager, British Council.
SATURDAY 20TH
UK & Brazil: The future of collaboration
Leading industry figures from both countries will discuss how filmmakers can best work together, financially and creatively.
The Power of Film: The role of storytellers as cultural diplomats
Speakers, including Rosie Alison, producer at Heyday Films (Paddington, Paddington 2) and Jonathan King, head of narrative film, Participant Media discuss how can we harness the power of film to inspire and effect change. Chaired by Gaylene Gould, head of cinema and events, BFI Southbank.
Talent Talk: Sea Sorrow
Director Vanessa Redgrave and producer Carlo Nero talk about their feature documentary Sea Sorrow, playing in the Special Screenings section.
Watch a clip for the event HERE:
Talent Talk: How To Talk To Girls At Parties
Director John Cameron Mitchell, US producer Howard Gertler of Little Punk, and Amy Jackson, head of production at See Saw Films, reveal how they brought How To Talk To Girls At Parties to the screen.
SUNDAY 21ST
Talent Talk: A Prayer Before Dawn
Writer Nick Saltrese and producer Sol Papadopoulos of the UK's Hurricane Films come together with Billy Moore and actor Joe Cole to talk about the challenges and opportunities of adapting real events. Moore was incarcerated in a Thai prison and was forced to become a Muay Thai boxing champion to survive. Chair: Kaleem Aftab.
Star Power: How to develop film projects to attract world-class talent (In association with Screen International)
Speakers including Nish Panchal, film and TV agent, Curtis Brown and Rhodri Thomas, president, production, The Ink Factory discuss how international producers can develop feature work that appeals to the very best actors, writers and directors. Chaired by Screen International editor Matt Mueller.
Beyond 25%: maximising the UK tax credit (In association with the British Film Commission)
International independent producers, including Matthew Metcalfe (6 Days), discuss how they have taken advantage of the flexibility and inclusivity of the UK tax credit to base their post-production and VFX in the UK. Chaired by Adrian Wootton, chief executive, British Film Commission.
MONDAY 22ND
The Practical Guide to Closing your Film (In association with European Film Bonds): 10.00 - 11.00
Experts including Clare Coulter, business affairs manager, BFI and Peter La Terriere, managing director, European Film Bonds, discuss moving your first national film to a multi-party co-production. Chaired by Isabel Davis, head of international, BFI
Hunt for the younger people: How to capture the 16-30 year-old audience: 15.00 - 16.00
International distribution and marketing experts, including Wei Han, CEO, Bliss Media, Jamie Schwartz, executive vice president, marketing, Focus Features and Paul Wiegard, managing director, Madman Entertainment, discuss the release strategies behind films that have struck a chord with this elusive demographic. Chaired by Sophie Monks Kaufman, contributing editor, Little White Lies.
More information can be found HERE.