Chancellor George Osborne wants more projects like Gravity and Avengers: Age Of Ultron to shoot in the UK.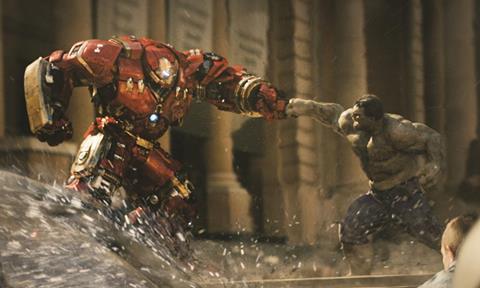 A new higher rate of film tax relief (FTR) for the UK has been given State Aid approval by the EU - giving a green light to the plans first outlined in March.
It means that the rate of FTR will be increased to 25% regardless of budget level for all qualifying core expenditure, for all eligible film productions.
Therefore, a British film costing £40m will receive an additional £1m towards productions costs from the change.
Previously, FTR applied at a rate of 25% for the first £20m ($31m) of qualifying expenditure and 20% to amounts thereafter.
The plans were first announced by the government in the March 2015 Budget and have been running through the various governmental processes to secure approval.
Backdated to April
Chancellor George Osborne announced the approval to the scheme, which will be backdated to apply from April 2015, whilst visiting the set of Agatha Raisin, a new British TV series being filmed in Wiltshire that is benefiting from the government's high-end TV tax relief, which also provides a tax credit of 25% on qualifying British productions.
Osborne said: "British made films are watched and celebrated all over the world - last year alone we saw eight British-made films nominated for an Oscar.
"A key part of our long term economic plan is supporting our creative industries that contribute billions to the economy and provide millions of jobs.
"We want to see more films, like Gravity and Avengers: Age of Ultron, made in Britain and that's why we've made our film tax relief even more generous."
Competitive on the world stage
BFI CEO, Amanda Nevill said: "The film tax relief is a key ingredient in the UK's winning combination of outstanding filmmaking talent and crews, world-leading studios and facilities, and iconic locations.
"It keeps us competitive on the world stage, and helps grow our economy and create jobs at home. We warmly welcome this extension to the tax relief and the government's continued commitment to the UK's thriving film industry."
Ivan Dunleavy, CEO of Pinewood Group said: "The Chancellor's announcement of further enhancing Film Tax Credit is a clear demonstration of how this Government has supported UK Film and helped fuel growth in the creative industries to the benefit of the taxpayer. We look forward to working with UK and global film producers and keeping the UK at the heart of international film and television production."
UK spend
The government's film tax relief has supported almost £8bn ($12.5bn) of production expenditure since its introduction, including films such as Gravity, Maleficent and Harry Potter.
It supported 222 films in 2014, when £1.4bn ($2.2bn) was spent on filmmaking in the UK.
Films that have qualified under the cultural test for film tax relief include: Skyfall, World War Z, Paddington, The Theory of Everything, Mr Turner, The Imitation Game, Gravity and Harry Potter And The Deathly Hallows.
What is eligible?
For a film to be eligible for relief, it must be certified as British by passing a cultural test administered by the Department for Culture, Media and Sport (DCMS) – though the British Film Institute (BFI) actually administrate the scheme on a day-to-day basis – or qualifying as an official co-production.
A minimum of 10% of its budget must be spent on UK qualifying expenditure.