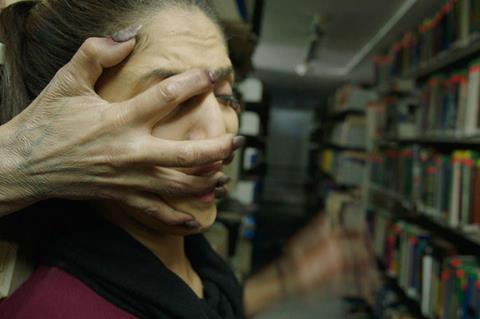 This year's FrightFest, the annual UK genre festival, has unveiled a line-up that features 20 world premieres including films from the Soska Sisters (American Mary) and Tom Paton (Black Site).
The Soska Sisters, Jen and Sylvia, are screening their second feature Rabid, their re-imagining of David Cronenberg's 1977 film. Paton's Stairs is a sci-fi horror about a special ops squad that find themselves trapped on a never-ending stairwell.
Also screening are Scary Stories To Tell In The Dark, produced by Guillermo del Toro and directed by André Øvredal's, and Crawl, from producer Sam Raimi and director Alexandre Aja's; the latter is having its UK premiere.
As previously announced, Ant Timpson's dark and edgy comedy Come To Daddy will have its UK premiere as the FrightFest opening film, while the world premiere of Abner Pastoll's dramatic crime story A Good Woman Is Hard To Find will close this year's festival.
Guests at the festival this year will include horror icon Dario Argento, who will present a special screening of Tenebrae and will also take part in an in conversation event with festival co-director Alan Jones.
This year's FrightFest takes place August 22-26 at London's Cineworld Leicester Square and Prince Charles Cinema.
In total, the 20th edition of the event will host 78 films from 14 countries.
Full Line-Up across two venues:
Prince Charles Cinema
A Serial Killer's Guide To Life (UK) dir. Staten Cousins-Roe (World premiere)
Are We Dead Yet (UK) dir. Fredi Nwaka (World premiere)
Bloodline (US) dir. Henry Jacobsen (UK premiere)
Criminal Audition (UK) dir. Samuel Gridley (World premiere)
Critters Attack! (US) dir. Bobby Miller(UK premiere)
Dark Light (US) dir. Padraig Reynolds (World premiere)
Dark Sense (UK) dir. Magnus Wake (UK premiere)
Darlin' (US) dir. Pollyanna McIntosh (UK premiere)
Death Of A Vlogger (UK) dir. Graham Hughes (World premiere)
Depraved (US) dir. Larry Fessenden (European premiere)
For We Are Many (UK) dir. Lawrie Brewster, Andrew Ionides, Brad Watson, Mitch Wilson, Carlos Omar De Leon, Matthan Harris, Dane Keil, Mark Logan (World premiere)
Freaks (Ca) dir. Zach Lipovsky, Adam B. Stein (UK premiere)
Girl On The Third Floor (US) dir. Travis Stevens (UK premiere)
Happy Face (Ca) dir. Alexandre Franchi (UK premiere)
Harpoon (Ca) dir. Rob Grant (UK premiere)
Haunt (US) dir. Scott Beck & Ryan Woods (International premiere)
Here Comes Hell (UK) dir. Jack McHenry (UK premiere)
I Trapped The Devil (US) dir. Josh Lobo (UK premiere)
Mutant Blast (USA/Pt) dir. Fernando Alle (UK premiere)
Porno (US) dir. Keola Racela (European premiere)
Rabid (Ca) dir. David Cronenberg (Restoration premiere)
Red Letter Day (Ca) dir. Cameron Macgowan (UK premiere)
Stairs (UK) dir. Tom Paton (World premiere)
Tenebrae (It) dir. Dario Argento
The Banana Splits (US) dir. Danishka Esterhazy (UK premiere)
The Dark Red (US) dir. Dan Bush (European premiere)
The Legend Of The Stardust Brothers (Ja) dir. Macoto Tezuka (UK premiere)
The Perished (Ir) dir. Paddy Murphy (World premiere)
The Wind (US) dir. Emma Tammi (UK premiere)
To Your Last Death (US) dir. Jason Axinn (World premiere)
Witches In The Woods (Ca) dir. Jordan Barker (World premiere)
The Wretched (US) dir. Brett Pierce & Drew T. Pierce (World premiere)
Cineworld Leicester Square
A Good Woman Is Hard To Find (UK) dir. Abner Pastoll (World premiere)
Bliss (US) dir. Joe Begos (UK premiere)
Bullets Of Justice (Ru, Ar) dir. Valeri Milev (UK premiere)
Come To Daddy (USA/Ca/NZ/Ir) dir. Ant Timpson (UK premiere)
Crawl (USA) dir. Alexandre Aja (UK premiere)
Cut Off (Ge) dir. Christian Alvart (UK premiere)
Dachra (Tu) dir. Abdelhamid Bouchnak (UK premiere)
Daniel Isn't Real (US) dir. Adam Egypt Mortimer (UK premiere)
Dark Encounter (UK) dir. Carl Strathie (International premiere)
Deadcon (US) dir. Caryn Waechter (International premiere)
Driven (US) dir. Glenn Payne (European premiere)
Eat Brains Love (US) dir. Rodman Flender
Extracurricular (Ca) dir. Ray Xue (European premiere)
Feedback (Sp/USA) dir. Pedro C. Alonso (UK premiere)
Fingers (US) dir. Juan Ortiz (European premiere)
Ghost Killers Vs. Bloody Mary (Br) dir. Fabrício Bittar (UK premiere)
Halloween Party (Ca) dir. Jay Dahl (World premiere)
I Am Toxic (Ar) dir. Pablo Pares (UK premiere)
I'll Take Your Dead (Ca) dir. Chad Archibald (UK premiere)
Impossible Crimes (Ar) dir. Hernan Findling (European premiere)
Kindred Spirits (US) dir. Lucky McKee (UK premiere)
Knives And Skin (US) dir. Jennifer Reeder (UK premiere)
Madness In The Method (US) dir. Jason Mewes (International premiere)
Mary (US) dir. Michael Goi (International premiere)
Master Of Dark Shadows (US) dir. David Gregory (International premiere)
Nekrotronik (Au) dir. Kiah Roache-Turner (UK premiere)
Rabid (Ca) dir. Jen & Sylvia Soska (World premiere)
Ready Or Not (US) dir. Matt Bettinelli-Opin & Tyler Gillett (UK premiere)
Rock, Paper And Scissors (Ar) dir. Macarena García Lenzi & Martín Blousson (World premiere)
Sadistic Intentions (US) dir. Eric Pennycoff (UK premiere)
Satanic Panic (US) dir. Chelsea Stardust (European premiere)
Scary Stories To Tell In The Dark (USA/Ca) dir. André Øvredal
Sick! Savage! Sensual! The Reel Life And Ghastly Death Of Al Adamson (US) dir. David Gregory (International premiere)
Spiral (Ca) Kurtis David Harder (International premiere)
Stalked (UK) dir. Justin Edgar (World premiere)
Tales From The Lodge (UK) dir. Abigail Blackmore (European premiere)
The Barge People (UK) dir. Charlie Steeds (World premiere)
The Black String (US) dir. Brian Hanson (European premiere)
The Deeper You Dig (US) dir. Toby Poser & John Adams (European premiere)
The Drone (US) dir. Jordan Rubin (UK premiere)
The Furies (Au) dir. Tony D'Aquino (UK premiere)
The Magnificent Obsession Of Michael Reeves (UK) dir. Dima Ballin (World premiere)
The Sonata (UK/Fr) dir. Andrew Desmond (UK premiere)
True Fiction (Ca) dir. Braden Croft (World premiere)
Volition (Ca) dir. Tony Dean Smith (UK premiere)
Why Don't You Just Die (Ru) dir. Kirill Sokolov (UK premiere)