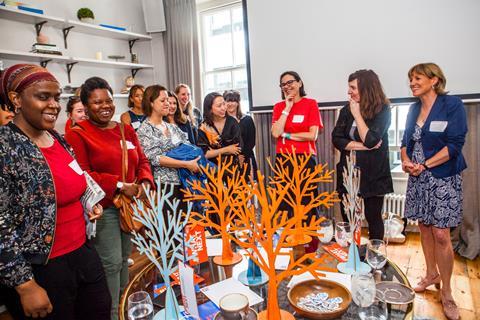 A group of UK film professionals debated the next steps for the Time's Up and #MeToo movements this week under the banner #WhatNext.
The event, organised by Sundance London, took place on Wednesday May 23 at the women-only London members club AllBright.
Picturehouse's director of programming Clare Binns opened proceedings with a call to action: "We're lucky to be here, doing what we love. We want to help other people to do what they love. [We're here] to think of ways to have more women in the industry doing proper creative, important work."
Julia Oh from Film4 added that "more women in film means more opportunities for women in film" and that an increase of prominent women in prominent industry positions would inevitably lead to greater gender parity across the business.
Numerous attendees on the morning referenced the newly-published report from the Writers' Guild of Great Britain (WGGB) that revealed only 16% of the 3,310 screenwriters with at least one credit on a UK feature film between 2005 and 2016 were female.
There was unanimous agreement that work needs to be done across all branches of the industry, and, as Screen has reported over the last year, the balance isn't healthier in other disciplines (Number of women directors up slightly in 2017 but still only 11%; UK film industry gender pay gaps revealed).
'Commercial risk'
At Wednesday's event, it was also highlighted that different ends of the business also deserve equal levels of scrutiny.
The more open, public money-backed sides of the industry may be talking about inclusion and diversity in detail, but the more commercial side of the marketplace must also be held to the same standards, said Mia Bays, film producer and one of the heads of this year's Sundance London programme.
"Everyone in the public space is talking about 50-50, but that's not happening elsewhere. People say [employing female directors] is a commercial risk, the hard-core commercial end of the market is resorting to that issue – it's a dead zone [for women directors] and we need more gatekeepers to change the dialogue," she commented.
Fiona McGuire, production manager at Pathe UK, said that now was the time to instigate wide change by harnessing the momentum of Time's Up and #MeToo.
"We're in a really critical time. We are experiencing a massive skills shortage every day trying to make films – that's an opportunity to make people look in different directions for new talent. We need to train the new generation and I'm trying to look laterally at other opportunities for finding new people. The more we can terrify our bosses, saying we're not going to have anyone to work on our films, that will persuade them to look in a non-linear fashion for new people," McGuire said.
Emma Cooper, global president of non-fiction at Pulse Films, said that her company was actively seeking a larger pool of female directors for projects. "I need more women directors for the films I'm making, the opportunities are there," she commented.
Clare Binns added that Picturehouse's distribution side of the business was "committed to buying films by women and for women".
Audience question
Gaylene Gould, head of cinemas at the BFI, responded to positive messages from the producers and distributors present by saying that both exhibitors and audiences also needed to hold up their side of the bargain.
"We need to be doing more. We have to find those women who can fill NFT1 [the BFI's largest screen at its London Southbank venue] and we need people to come and support the work. We have to prove there are audiences," she commented.
Sundance London – which has a programme this year featuring more than 50% women directors – gets underway in a week (May 31) and the #WhatNext group will be using the platform to continue the debate.
The efforts will include a series of #WhatsNext plastic trees being placed around the Picturehouse Central venue, the branches of which will be populated with labels featuring ideas of how to further address the film industry's gender imbalance, with all attendees encouraged to submit their own ideas.