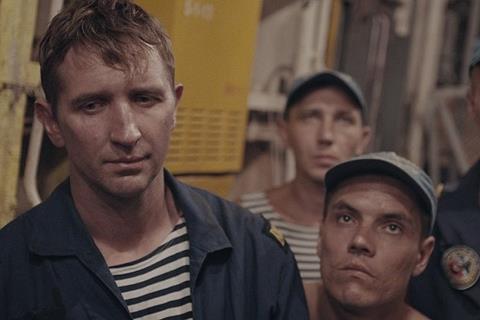 Defying the ongoing war in Ukraine, a Kyiv-based media group and several independent Russian companies are attempting to conduct business as usual at Hong Kong's Filmart Online (March 14-17) this week.
Asia's largest film market is taking place virtually, due to the pandemic, meaning representatives of Ukraine's Film.UA Group can discuss titles with international buyers without the need to travel out of the country. But Russia's invasion of Ukraine, which began on February 24, means Film.UA are experiencing unprecedented challenges for the company.
"In the current circumstances, it is tough to participate in the event because of the technical issues we are facing," said Evgeniy Drachov, who handles international sales at Film.UA.
"Our team works remotely from different parts of Ukraine and we still have online access so are functioning as best as possible. But more important is the security of our families and kids."
Several of the titles Film.UA is presenting in Filmart are war dramas and include Tymur Yashchenko's U311, inspired by true events, centring on a Ukrainian Navy minesweeper whose crew resists seizure by the Russian army in Crimea in 2014. Another is Zaza Buadze's Call Sign Banderas, also set in 2014, in which a Ukrainian intelligence group attempt to prevent Russian sabotage in their country.
"Since Ukraine is the hot topic in each corner of the planet, we are aiming to spread our content, which focuses on our people and fight for freedom," added Drachov.
Russian companies
Major film festivals and markets around the world have come out in support of Ukraine, with the likes of Toronto International Film Festival (TIFF) announcing it would bar state-backed Russian film and media bodies from participating in this year's festival, following similar moves by Cannes Film Festival and Venice Biennale.
However, in a statement issued to Screen, the Hong Kong Trade Development Council (HKTDC), which organises Filmart, said: "Every year, Filmart Online receives support and participation from Hong Kong, Mainland China and major international film and television companies, and we will continue to accept participation from different countries and regions this year."
But while Filmart is hosting eight Russian companies, those who responded to Screen declared their independence from the state and voiced opposition to the war.
Anton Mazurov, CEO of Moscow-based Antidote Sales, told Screen his firm was "completely independent of the Russian state" and also revealed that the company is now looking to operate outside the country.
"For a company operating in Russia, the entire business system is changing completely," said Mazurov. "From now on, we will operate as a Swedish legal entity and use Swedish bank accounts. Russia is no longer a place for the film business."
Many of the films Antidote handles are international and includes such titles as Italian director Giovanni Pellegrini's first feature-length documentary Lagunarria and South Korean director Wooyoung Choi's 1989 Berlin, Seoul Now.
Do not "demonise" all Russians
Also participating in Filmart is Russian outfit Cinitsa Cinema Company, which will present Roman Olkhovka's Dreamover, a romantic sci-fi drama that received its world premiere at the Shanghai International Film Festival.
"We are still participating [in Filmart]," confirmed filmmaker Olkhovka, who is also the co-founder of Cinitsa. "[Dreamover] was made without any government support. We are a true Russian independent movie."
The company's website features a prominent image of peace on its homepage and Olkhovka voiced his opposition to the Russian invasion of Ukraine. "We do not support any of the possible reasons to justify Russia's military actions in Ukraine," he stated.
However, when asked about recent calls for a cultural boycott of all Russian cinema by prominent Ukrainian filmmakers, Olkhovka disagreed.
"I can understand that Ukrainian people are angry about our soldiers, our government and our president, but it could escalate [conflict] if the world blocks Russian culture, Russian people and Russian voices," the filmmaker commented. "It will demonise Russians even more and make the gap between Russia and the world even bigger than it is now."
Riki Group, a leading Russian animation house based in St Petersburg, also confirmed its participation in Filmart and a spokesperson told Screen that the company's involvement in the market was arranged two months ago, before the war started, and is attending without support from any official organisation.
"We will continue to participate in markets online and will do so independently," said the spokesperson. "Filmart is a unique content marketplace and presents a chance for us to continue communication with players in the region."
Riki Group regularly sells to and co-produces with leading Chinese companies such as Youku Kids, a division of Alibaba Group and Tencent Video.
Despite these companies defending their attendance, Film.UA's Drachov made clear his fierce opposition toward any Russian involvement in the Hong Kong event.
"Today, all the key world events are banning Russian companies and not allowing them to take part in films and TV festivals so I feel bad that Filmart has allowed the Russian cultural weapon to be presented to the market," commented the sales executive.
Further Russian companies listed as taking part in the event had yet to respond to requests from Screen for comment.