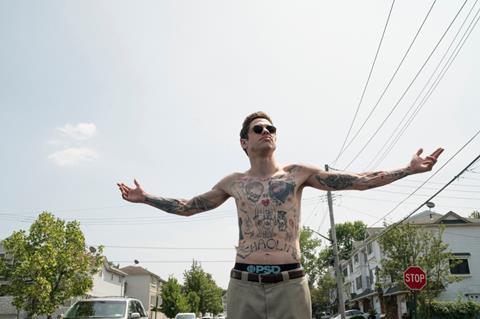 Universal Pictures has pulled a scheduled summer theatrical release from the calendar and moved Judd Apatow's comedy The King Of Staten Island to premium VOD in North America on June 12.
The film had been set to open theatrically on June 19 and means another potential title has been swiped from the table should exhibitors reopen as expected later this summer.
Earlier this month Universal released Trolls World Tour on premium VOD after pulling the film from its theatrical berth when cinemas closured in the wake of the coronavirus pandemic. The move displeased the exhibition community, and weeks later the studio claimed the family film had delivered the biggest digital debut in history.
At time of writing Hollywood is heading into a summer season populated by far fewer tentpoles than normal.
At time of writing Universal's The Purge 5 remains on the schedule as the first big summer title to open on July 10, followed by Warner Bros' Christopher Nolan thriller Tenet a week later.
Last week Warner Bros CEO Ann Sarnoff gave the first indication last week that while the studio remains committed to Tenet's theatrical release in effect it could not guarantee the July 17 date. "We are committed to – and are excited about – releasing Tenet in theatres this summer or whenever theatres reopen," she said.
Summer tentpole releases include Disney's Mulan on July 24, Paramount's SpongeBob: SpongeBob On The Run on August 7, Warner Bros' Wonder Woman 1984 on August 14, The Hitman's Wife's Bodyguard via Lionsgate on August 28, and A Quiet Place II through Paramount on September 4.
SNL cast member Pete Davidson stars in The King Of Staten Island, a semi-autobiographical tale about a 20-something under-achiever who decides it is time to grow up when his mother begins dating a loudmouth firefighter.
The cast includes Marisa Tomei, Maude Apatow from HBO's Euphoria, Steve Buscemi, Pamela Adlon, Ricky Velez, Lou Wilson, Bel Powley, and Bill Burr.
Apatow directed from a screenplay he co-wrote with Davidson and former SNL writer Dave Sirus. Apatow produced through Apatow Productions alongside Barry Mendel, his fellow producer on The Big Sick, Bridesmaids, and This Is 40. Davidson, Michael Bederman and Judah Miller served as executive producers.