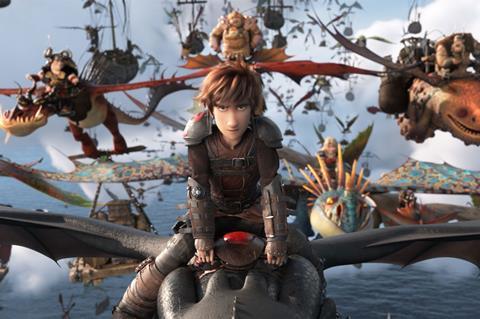 Universal Pictures is to make a live-action feature based on the DreamWorks Animation franchise How to Train Your Dragon, with a March 14, 2025 release date already set.
Dean DeBlois, who has written and directed all three of the animated Dragon films – which are based on based on the best-selling book series by Cressida Cowell - will also write and direct the live-action adaptation. DeBlois, Marc Platt and Adam Siegel will produce.
The original How to Train Your Dragon, about hapless young Viking Hiccup who befriends a dragon in spite of his father's reputation as a dragon hunter, came out in 2010, with Jay Baruchel and Gerard Butler heading the voice cast. It grossed $494.9m worldwide, with more than half the total coming from international markets.
In 2014, How to Train Your Dragon 2 took $621.5m globally (more than 71% from international), and in 2019 How to Train Your Dragon: The Hidden World delivered $524.6m.
All three entries were nominated for the best animated feature Oscar and the second film won the best animated feature Golden Globe.