Plus: promotions at Paramount, Warner Bros; and Rogovy Foundation launches doc fund.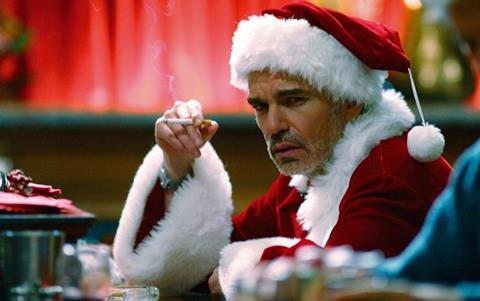 Jenny Zigrino, Ryan Hansen and Jeff Skowron have joined Bad Santa 2, which has begun production in Quebec. Billy Bob Thornton, Kathy Bates, Christina Hendricks, Tony Cox and Brett Kelly star in the dark comedy sequel. Miramax and Broad Green Pictures co-finance and co-produce and Broad Green has set a November 23 US release date.
Joe Whitmore has been promoted to evp of worldwide marketing and creative content for Paramount Pictures and will report to Steve Siskind, Paramount's president of domestic marketing.
The Rogovy Foundation has announced $150,000 in bi-annual grants for the launch of the Miller/ Packan Documentary Film Fund, supporting feature documentaries on social issues in advanced development For submission details click here.
Mel Eslyn, Felix Thompson and Elizabeth Chia Vasarhelyi have received Film Independent's Spirit Awards filmmaker grants, earning $25,000 in unrestricted support. Eslyn gets the Piaget Producers Award, Thompson the Kiehl's Someone To Watch Award and Vasarhelyi the Truer Than Fiction Award.
Barry Ziehl has been named svp of public affairs and strategic initiatives at Warner Bros and will report to Dee Dee Myers, evp of worldwide corporate communications and public affairs.