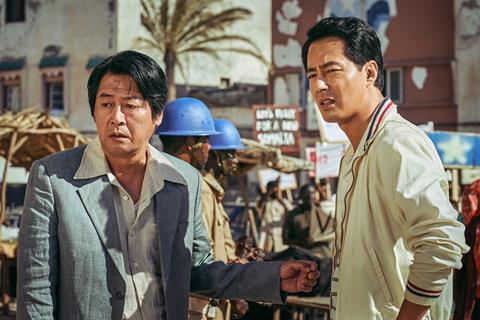 In South Korea, total box office revenue in 2021 went up 5.7% year-on-year to $485.3m. Admissions went up by slightly more than 1 million compared to 2020 to a total of 60.5 million in 2021.
However, this is far cry from a pre-pandemic 2019, a year that broke records for both admissions (226.7 million) and box office revenues ($1.61bn).
Scroll down for Top 20, 2021
And as audiences stayed home and local distributors held back releases, the market share of Korean films fell to 29.7%. This broke the 10-year streak of local films taking the majority of box-office receipts in the territory. Even in 2020 which saw the lowest admissions and box office on record, the lack of US releases meant the local share was 68.7%.
Instead, US films gained a 61.9% market share compared to 25.4% the year before. In 2019, Korean films enjoyed a market share of 50.7%, up from 50.3% in 2018.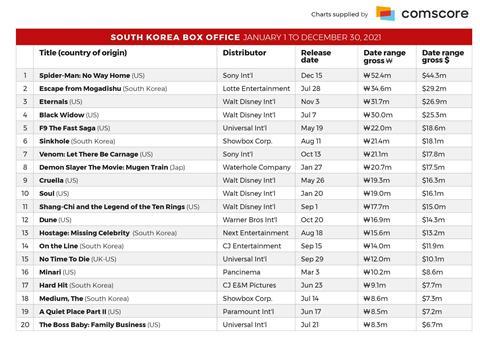 In 2021, Japanese films accounted for 6.1% of the total market, followed by French and UK films which each took 0.4% and Hong Kong films took 0.3%.
According to Kobis, Spider-Man: No Way Home, distributed by Sony Pictures Releasing International, topped the 2021 chart with 5.6 million admissions and $46.2m. Released December 15, 2021, the film has since reached 6.9 million admissions and grossed $58.4m as of January 18.
Ryoo Seung-wan's political action thriller Escape From Mogadishu followed with 3.6 million admissions and $28.7m. Released by Lotte Cultureworks/Lotte Entertainment on July 28, the film ended in the box office chart's second ranking, making it the highest grossing local film of the year.
The highest grossing non-Hollywood, non-local film was the Japanese animation Demon Slayer the Movie: Mugen Train. Distributed by Waterhole Company, the animation took $17.2m and 2.2 million admissions after a July 3 release. It came in seventh on the year-end box office chart according to admissions and eighth according to gross.
Health and safety in 2022
Although this year started with cinemas being forced to close at 10pm, they are now allowed to start their final screenings at 9pm. As of today (January 18), cinemagoers no longer need to present a vaccination certificate or negative PCR test result, but still need to check in for potential contact-tracing with a QR code, phone call or sign-in sheet. Masks are de rigeur as in most public places.
Food is not allowed inside screening rooms but non-alcoholic beverages are. The government does not require distancing between seats but cinemas are opting for this protocol of their own accord to reassure patrons.