The growing business opportunities afforded by China and the TV sector were among subjects discussed by US finance heavyweights FilmNation and Endgame Entertainment during an industry panel at the Karlovy Vary International Film Festival (KVIFF).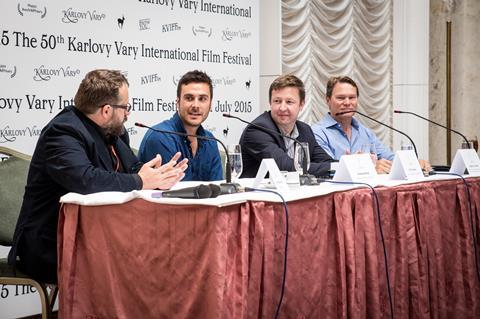 Sitting on the panel titled Understanding and Overcoming the Hurdles of Hollywood, were Milan Popelka, COO at sales and production outfit FilmNation Entertainment; Douglas E. Hansen, president of financier Endgame Entertainment Company and CEO of Endgame Releasing Company; and US film director Andrew Renzi (Franny).
KVIFF regular Popelka - who has been at sales giant FilmNation since its inception in 2008 - and finance veteran Hansen, both recognised that Hollywood is awash with funding opportunities today, but that industry face greater challenges when it comes to finding strong content.
"Everyone is so hungry for material right now in Hollywood," said Popelka. "Money is a commodity, to an extent. When we put an interesting movie together, finding the money is not the problem; it's the material that can be more of a challenge."
Hansen, who estimated that the company read 2,000 scripts per year, agreed: "There is a lot of money out there for specific things. It is more competitive as a financier than it has been in a long time. There are a lot more distributors as well."
China
Both executives recognised the burgeoning business opportunity offered by China, whose distributors regularly buy FilmNation titles, said Popelka, and with whom Endgame co-produced 2012 action film Looper, also sold by FilmNation.
Popelka acknowledged that producing local-language films for the heavily-regulated local market could ultimately prove a more successful strategy than trying to crowbar certain actors into US films in a bid to win over Chinese audiences and censors.
"Too many people don't do their homework," said Popelka. "We want to be strategic. You can't tack on or bolt on an element to a film. You need advisors and local partners on the ground in order to fully understand the market."
Last year, New York-based FilmNation, which has previously sold Chinese titles including Zhang Yimou's The Flowers of War, acquired the film rights to graphic novel The Undertaking of Lily Chen, which it intends to turn into a Chinese-language film.
The company's international expansion plans seemingly fit with those of FilmNation investor Roadshow Films, whose parent company Village Roadshow already has a production unit in China with Village Roadshow Entertainment Group Asia.
TV opportunities
Both executives also recognised the growing opportunities offered by the booming TV sector:
"We see a lot of IP," said Popelka. "Something might come our way that we don't think is a perfect fit for film but that might be better suited for TV. It's something that we're looking at.
"We want to do it in the right way, though. Hollywood chases success; there needs to be thought behind it. But we do have ideas that we think are suited to TV."
Endgame, which has already backed TV projects including Stephen Poliakoff's BBC2 drama Dancing On The Edge, is also looking to grow its TV footprint:
"We've added a development set-up for television," said Hansen. "And we've seen some scripts that we've thought would make great TV."