Cannes panel debate rise of digital giants at UK Film Centre.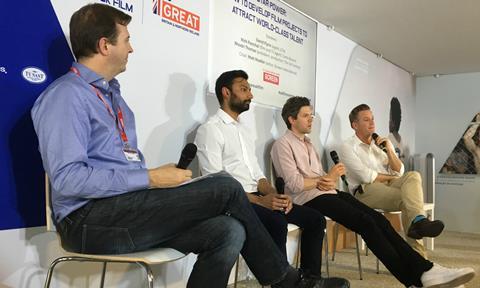 UTA agent David Flynn, whose clients include Michael Winterbottom, Laszlo Nemes and Rupert Wyatt, has claimed that everyone in the film business should be looking to benefit from the rise of digital giants Netflix and Amazon.
Speaking in Cannes during a panel at the UK Film Centre - Star Power: How to develop film projects to attract world-class talent - Flynn took the opportunity to weigh in on the subject matter that has dominated this year's festival since day one.
"We can all benefit from it [the rise of Netflix and Amazon]. It's not just agents – it's producers, crews, everyone involved," Flynn said.
"The Netflix model is an extraordinary business [which is] driven to increase its subscriber base. Amazon is one of the biggest companies in the world, and it now makes content.
"It's forcing the studios to reassess how they do business. Whenever you have disruptors in the game, ultimately that's a good thing," he continued.
However, he also emphasised that the deep-pocketed streaming services weren't the only viable prospects for filmmakers.
"Remember there are other options," he said, pointing to fellow panellist, The Ink Factory's Rhodri Thomas, and his experience with The Night Manager, which was made with US broadcaster AMC and the UK's BBC.
"Not everything needs to go to Netflix. Particularly on the TV side, the ownership model can be extensive and vast.
"There are still incredible companies out there who are doing scripted content in a significant way. There are going to be real alternatives in the marketplace to the two companies we hear about all the time [Netflix and Amazon]," he concluded.
The third speaker on the panel, Curtis Brown's Nish Panchal, whose clients include Riz Ahmed and James Erskine, emphasised that even though a Netflix or Amazon contract can look extremely attractive, filmmakers need to remember the back end.
"You get a buyout form the beginning, you get paid handsomely up front, but it's a finite amount of money. When you [work with] an independent or studio you are invested in that," he said.
TV or film?
A further discussion topic that sparked debate was the separate attractions of the television and independent film businesses.
"If you want to create a piece of art, cinema is the thing," asserted Panchal, who added that many people's ultimate goal in the industry had to be winning an Oscar or a Palme d'Or.
Flynn disagreed. "There's amazing art on TV too, because of its populous medium people dismiss it," he commented.
For Thomas, whose company has simultaneously worked on film and television projects in recent years, said that while The Ink Factory were "focusing a lot on TV", they would have gone down that path "whether The Night Manager was successful or not".
However, he added that filmmakers should also look to exploit gaps left in the market by so many people looking to work in TV, "If everyone's leaving an area, go in there. If someone's making lots of television, come out with a great movie."
The panel was moderated by Screen editor Matt Mueller.