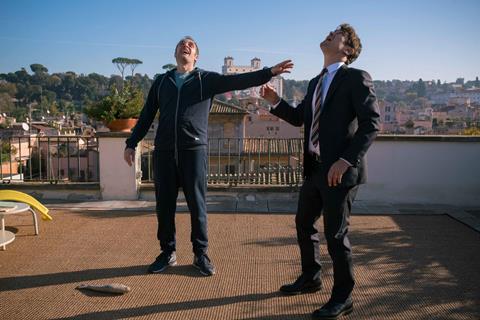 Euforia, Valeria Golino's second film and return to Un Certain Regard, has stirred up interest here for True Colours who have closed deals with Paname for French-speaking territories, Strada for Greece, Stars Media for former Yugoslavia, and Bravos Pictures for China.
Talks are ongoing on the HT Films and Indigo Film drama for the US, UK, Australia, Japan, Spain and Taiwan. 01 Distribution has planned an autumn release for the story starring Riccardo Scamarcio and Valerio Mastandrea as estranged brothers forced to cohabit for a few months in Rome.
After a solid $3.8m (€3.2m) Italian box office run, comedy Put Grandma In The Freezer has sparked robust trade. Odeon will distribute it in Greece, AV Jet in Taiwan, and Jetsen Huashi in China. Adso acquired Spanish rights to another Italian box-office hit, Carlo Verdone's Blessed Madness which grossed $9.8m (€8.2m).
Chinese distributor Wing Sight has signed a deal for Christian Marazziti's comedy Disconnected and Catalan drama Distances, which has also sold to Poland (Aurora Film), while Aspergers-themed comedy-drama As Needed has sold to New Cinema in Israel, Circo Film in Hungary, and Dreamax in China. Dreamax also bought the 2017 surprise hit Like A Cat On A Highway and Sergio Castellitto comedy The Handyman.
EFM sales title Naples In Veils went to Mediasoft in South Korea, Jushi Films in China, and Dreambox in Thailand, and LGBT comedy My Big Gay Italian Wedding sold to Arti Film for Benelux and Little Brother Films for Germany.
Two upcoming titles on the slate have sold to China: animation feature Golem has gone to Having Me Films, while thriller-horror Ride has landed at Bravos Pictures. Times Vision has bought Couch Potatoes, The Family House and The Prize, while Huashi has acquired teen romance That's Life.