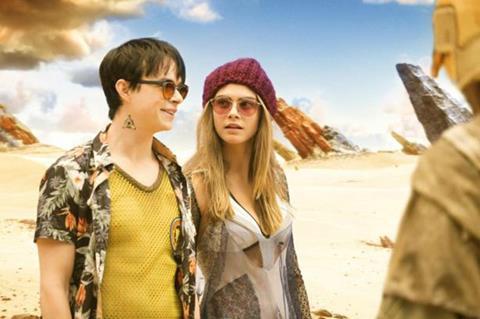 Following a two-month blackout of non-Chinese films,Valerian And The City Of A Thousand Planets ruled China, while Cars 3 and Baby Driver both earned more than $10m.
EUROPACORP
UPDATED: Luc Besson's sci-fi film topped international box office, dethroning Annabelle: Creation to dominate the arena on an estimated $44.6m from 33 territories.
The space opera debuted in China on $29m, and has now reached $40.8m after four days, lifting the international running total to $135.9m.
Valerian has earned a meagre $39.7m in North America through STX and stands at $175.6m worldwide.
WARNER BROS PICTURES INTERNATIONAL
UPDATED: Annabelle: Creation grossed $22.2m from 61 international markets, bringing the horror sequel to $138.6m internationally. Germany generated $1.5m on 310 screens, including previews, outperforming The Conjuring by 74% and Annabelle by 36%. In the Philippines, David F Sandberg's film produced $1.5m on 217 screens.
In its second weekend, Mexico produced $2.9m for $13.3m to rank a definitive number one as it more than doubled the results of the number two film. The film ranked number one in Brazil for the second straight weekend on $2.4m for $8.2m, which means it has surpassed the lifetime total of The Conjuring.
South Korea is the highest grossing market on $13.5m, followed closely by Mexico on $13.3m, while Indonesia has produced $9.2m, India $8.5m, the UK $8.3m, and Brazil $8.2m.
France generated $6.7m, Russia $5.4m, Malaysia $4.6m, Australia $4.7m, Vietnam $3.8m, and Italy $3.6m. There are no new openings.
Christopher Nolan's Dunkirk grossed a further $5.3m on over 4,200 screens. The Second World War drama stands at $240.1m. The UK remains the top market on $67.2m, followed by South Korea on $21.7m, France $19.1m, Australia $17.1m, and Spain $9.4m. The film debuts in China and Italy this week.
Dunkirk reached $70m in global IMAX box office after earning another $2m from 575 IMAX screens.
Wonder Woman hit the $400m international mark. Patty Jenkins' tentpole hovered just below the milestone for weeks until it debuted in Japan on $3.4m, doubling the opening weekend results of Captain America: The First Avenger and Thor, and surpassed Captain America: The Winter Soldier by 86%, Ant-Man by 84% and Guardians Of The Galaxy by 64%.
China is the top grossing market on $89.1m, followed by Brazil on $33.5m, the UK on $28.1m, Australia $23.4m, and Mexico $22.5m.
UNIVERSAL PICTURES INTERNATIONAL
UPDATED: Illumination's Despicable Me 3 grossed $13.1m in 58 territories for an international total of $718m. With North America's $254.6m, the film stands at $972.6m worldwide.
Italy produced $6.5m in week one, making it the biggest animation opening weekend of 2017 and the second best Illumination opening, behind Minions, in the market. Turkey generated $786,000 in week one to become the number one Illumination opening weekend there.
China remains the highest grossing market on $152.2m; followed by the UK on $58.2m; Germany $40.5m; Brazil $38.7m; France $38.6m; and Mexico $34.8m.
Russia has generated $25.8m; Australia $25.1m; Argentina $23.7m; Spain $22.7m; South Korea $21.4m; the Netherlands $11.4m; Poland $9.4m; Chile $7.4m and Colombia $7.1m. The film debuts in Greece on August 31.
Tom Cruise's latest starring vehicle American Made debuted in 21 territories and grossed $6.8m over the weekend. Doug Liman's action comedy opened number one in 11 markets including Australia, New Zealand, the UK, Denmark, Egypt, Estonia, Indonesia, Poland, Romania, Sweden and Taiwan.
Australia produced $1.7m for first place, while the film bought in $1.4m in the UK, taking the number one spot from Dunkirk after five weeks.
There are 44 territories to open over the next three months. This week, it opens in 14 territories including the Middle East, the Netherlands and Spain.
Atomic Blonde grossed $3.1m in 50 Universal and Sierra/Affinity territories, raising the international total to $32m. Combined with $49m from North America, the film stands at $81m worldwide.
The Charlize Theron spy thriller debuted at number three in Germany on $1.1m, while Austria generated $126,000 for third position. Central America generated $276,000, while France produced $652,000 in its second weekend for a running total of $2.4m. The film opens in Brazil, Mexico, Chile, Bolivia and Peru this week.
The Beguiled added $1.6m from 16 territories for a running international total of $8.3m and $18.9m worldwide. Sofia Coppola's drama debuted in France at number seven on $1m. Spain produced $314,000 for $1.3m after two weeks. The film opens in four this week, including New Zealand.
Girls Trip grossed a further $638,000 in Universal's five markets for an early international total of $12.1m. The female-driven comedy has grossed $108.2m in North America and stands at $120.3m worldwide. This week it opens in Australia, New Zealand and Romania.
FOX INTERNATIONAL
UPDATED: War For The Planet Of The Apes grossed $6.7m from 47 international markets. In France, the film grossed $1.7m for $20.4m and retains the number one position for the fourth consecutive weekend. Matt Reeves' latest instalment of the action trilogy stands at $217m internationally and will be released in China and Japan over the coming months.
Captain Underpants: The First Epic Movie added $1.7m from 15 markets. The UAE generated $274,000, lifting the international total to $27.6m. A Gentleman - Sundar, Susheel, Risky, from Fox International Productions and FoxStar, debuted as the number one title in India earning $2.5m from 2,555 screens in two markets.
SONY PICTURES RELEASING INTERNATIONAL
UPDATED: Baby Driver added $15.6m from 15,650 screens in 50 total markets, pushing the international tally to $90.1m. The film launched in China on $9.6m from 12,000 screens, which is 41% bigger than the four-day opening of Now You See Me, while Russia produced $2.6m from 922 screens, 19% above Hitman: Agent 47.
The Dark Tower grossed $9.4m from 7,520 screens in 57 total markets for a $43.5m running total. The weekend was led by debuts in Brazil on $1.5m, Mexico on $1.3m and Indonesia on $803,000.
The Emoji Movie took in $7.4m from 7,650 screens in 55 markets for $67.9m internationally. Russia added another $1.1m in its second weekend for $4.7m, and the UK dropped just 33% in its fourth session on $871,000 for $13.7m. Brazil is the next market to release this week.
Spider-Man: Homecoming added $2.7m from 2,675 screens in 58 markets, raising the international tally to $418.1m. Japan generated $1.3m in its third weekend for a running total of $20.7m. Tom Holland's web-slinger debuts in China early next month. Local language horror film Verónica debuted in Spain on $828,000, ranking number two in the market.
WALT DISNEY STUDIOS MOTION PICTURES INTERNATIONAL
UPDATED: Cars 3 debuted this weekend in China, generating a three-day opening weekend of $10.7m, which is 164% ahead of Cars 2 and already above the entire run of Cars. After grossing $13.9m over the weekend the animated film stands at $176.2m internationally and $325.3m worldwide.
Brian Fee's animation voiced by Owen Wilson, Cristela Alonzo, and Chris Cooper placed number three in China box office results behind Valerian and Wolf Warriors 2, and ahead of Baby Driver. The film is now the third biggest three-day standard opening for a Pixar release in that market.
France is the top market on $15.8m, followed by Mexico on $15.6m, Japan $15.6m, the UK $13.9m, and Brazil on $10.9m. The film opens in Denmark, Norway, Sweden and Singapore this week.
PARAMOUNT PICTURES INTERNATIONAL
UPDATED: Animated adventure sequel Tadeo Jones 2 opened in Spain at number one, grossing $3.1m at 404 locations, making it the best opening of a Spanish movie since December 2015. Transformers: The Last Knight grossed $811,000 in 20 markets for $473.8m internationally.