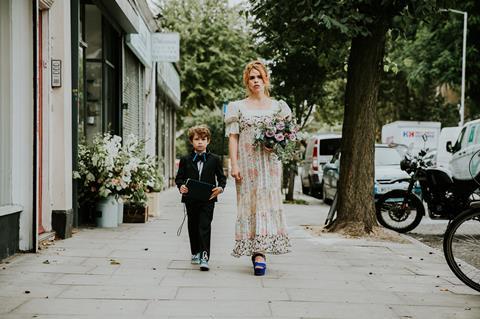 The line-up for the 2019 edition of the Venice Film Festival's independent strand Critics' Week (which runs August 28-September 7) has been unveiled.
The competition section includes Rare Beasts, the directorial debut of UK actress Bille Piper, in which she stars with Leo Bill, David Thewlis, Kerry Fox, and newcomer Toby Woolf.
Also in the competition are Lithuanian documentary director Mantas Kvedaravicius' feature debut Parthenon; Shahad Ameen's Saudi Arabian mermaid fantasy Scales; and Ahmad Ghossein's All This Victory set in Lebanon during the war between Hezbollah and Israel in 2006, which won the Karlovy Vary works in progress prize last year.
The line-up also includes Sebastián Muñoz 1970s-set Chilean prison drama The Prince starring Alfredo Castro; Marie Grahtø's debut Psychosia starring Trine Dyrholm; and Ascanio Petrini's feature debut Tony Driver about a Italian-American immigrant deported back to his homeland.
Gitanjali Rao's hand-drawn Indian animation film Bombay Rose, produced by Cinestaan Film Co, will open Critics' Week and screen out-of-competition.
The closing film, also out of competition, is Joshua Gil's fantasy drama Sanctorum, set in the world of Mexican drug wars.
All the titles are eligible for the festival's $100,000 Luigi De Laurentiis - Lion of the Future Prize,
The main Venice Film Festival line-up will be announced on Thursday (25 July). The festival will open with Hirokazu Kore-eda's The Truth.
The 2019 Venice Critics' Week line-up:
Competition
All This Victory (Leb-Fr-Ger)
Dir: Ahmad Ghossein
Parthenon (Lith-Ukr-Fr)
Dir: Mantas Kvedaravicius
Psychosia (Den-Fin)
Dir: Marie Grahtø
Rare Beasts (UK)
Dir: Billie Piper
Scales (UAE-Saud - Iraq)
Dir: Shahad Ameen
The Prince (China-Arg-Bel)
Dir: Sebastián Muñoz
Tony Driver (It-Mex)
Dir: Ascanio Petrini
Opening film (out of competition)
Bombay Rose (Ind-UK-Fr)
Dir: Gitanjali Rao
Closing film (out of competition)

Sanctorum (Mex-Qat-Dom)
Dir: Joshua Gil