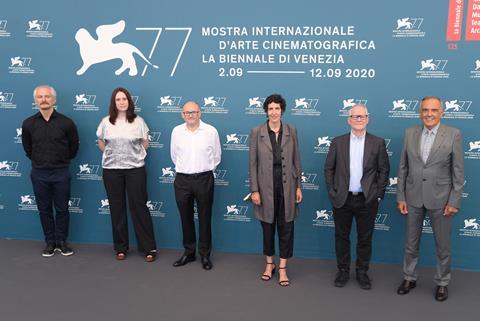 The directors of Europe's leading film festivals put on a united front at the first news conference of this year's Venice Film Festival on Wednesday (September 2), which is unfolding against the backdrop of the Covid-19 pandemic.
"We're here for two reasons: to show our solidarity to the other festivals and those colleagues who were not able to hold their festivals… but above all to show our support for all of those who make cinema – the directors, actors, producers, exhibitors," said Venice Film Festival artistic director Alberto Barbera.
In an unprecedented move, he was joined on stage by European counterparts Thierry Frémaux (Cannes), Lili Hinstin (Locarno), Vanja Kaludjercic (Rotterdam), Karel Och (Karlovy Vary) and José Luis Rebordinos (San Sebastian).
They have all travelled to Venice as part of a special initiative in which they will read out a joint statement at Venice's opening ceremony this evening, emphasising the importance of cinema as well as the integral role festivals play in the film industry.
Berlinale artistic director Carlo Chatrian is also set to join them on stage while BFI London Film Festival director Tricia Tuttle has had to cancel her scheduled participation at the last minute but remains a signatory.
Explaining how the initiative had come about, Barbera said one of the "few positive consequences of the lockdown" had been the fact that festival directors had started talking to one another over the phone and exchanging emails a lot more.
"We were all trying to understand together how we deal with this unprecedented situation and its huge uncertainties, risks and dangers. We had no idea how many festivals would be able to concretely go ahead."
He also addressed "speculation" that Venice and Cannes, which was forced to cancel its physical edition but still unveiled an Official Selection, had toyed with the idea of collaborating more closely but had failed to come to an agreement.
"The reason it didn't happen is simple," he said. "We looked at various hypotheses of how we could work in a constant and precise manner in this extraordinary situation but everything kept constantly changing in front of our eyes, week by week. Every hypothesis we came up with quickly became old."
Referring to the increased interaction between festivals, Barbera added: "My personal hope is that the spirit of collaboration that guided us over these months and led to us organising this initiative, can continue into the future."
Barbera revisited the need for collaboration between festivals in the second conference of the day, introducing jury heads Cate Blanchett, Claire Denis and Claudio Giovannesi.
"It is true that in the last few years there was a kind of competition that was quite strong, quite risky and in my mind detrimental because it had a detrimental effect on the movies," he said.
"This year, the situation has completely reversed. No one mentioned competition and they have all showed a great determination to collaborate, deciding to not worry about world premieres, deciding to support the same good movies. One of the lessons from this lockdown is that this new approach can help us do our roles better, share information on projects and how festivals can be organised, to improve our capacity to be at the service of all those who make cinema. This is a wish of mine and all the festival directors I've been talking with."
"Laboratories for culture"
Speaking at the festival directors press conference, Cannes chief Frémaux said it made sense for Venice to take the lead on uniting the festivals with Wednesday's initiative given it was the oldest film festival in the world.
"It's normal, it's our elder," he said.
Frémaux added that the efforts of Cannes, Locarno and Karlovy Vary to exist this year, even if their physical events could not place, had not been for the sake of the festivals but rather the films and their makers.
"The immense solitude of the artists was palpable in the conversations I had back in March. They too were wondering what was going to happen, with shoots and releases on hold. The fact that the festivals tried to carry on gave them the force they needed to continue," he said.
Locarno chief Hinstin said the festivals were living through a moment of "major social transformation" as evidenced by her presence and that of Kaludjercic – "two young women" – on the stage.
She suggested film-watching was at a crossroads with audiences faced with the choice of watching films collectively on the big screen or in more solitary, intimate settings on the small screen.
"It is in moments like this that we can take a stance. Do we want to close off discovery, or do we want to act differently, so our meeting today is a commitment," she said.
Beyond the symbolic gesture of this evening, another aim of tonight's initiative is to emphasise the role festivals play within the film industry ecosystem and also ensure they are not forgotten as national governments and the European Union set in motion recovery plans for the region's audiovisual sectors in the comng months.
"We're not simply a window for a handful of good films that happen to be ready at a certain time of the year, we are also centres of culture, laboratories for culture," said Barbera.
He noted the role Venice plays year round through the Biennale College initiative as well as the work Rotterdam does with the Hubert Bals Fund and Cinemart co-production market and Cannes with the Cinéfondation.
Barbera added that all the festival directors would be lobbying their respective cultural representatives to ensure festivals receive recognition for their work as well as support at a local and international level in this difficult period.
But the main and immediate priority, he emphasised, was to protect the cinematic experience of watching films on the big screen and to that end the cinema theatres which have suffered "huge damage" as a result of Covid-19 lockdowns.
"Together we need to support this sector through the crisis. If the cinemas close, we risk losing this fundamental experience."