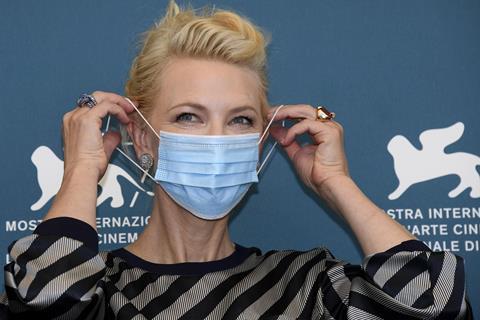 Cate Blanchett described being in Venice as "a miracolo" at the opening press conference of the Venice Film Festival today. Blanchett, who is heading the Venice Competition jury this year, said she had remained committed for months to attending after first being announced in January, despite the Covid-19 pandemic.
"My conversations with Alberto [Barbera] over these months has been all about outreach and canvassing opinions and the needs and expectations and desires of industry members, filmmakers, all around the world – those who can be there and those who can't," said the UK-based Australian actress.
"The film industry, like all industries, has had supremely challenging months and will continue to as we re-emerge, but I applaud all the filmmakers who had to complete their films under often very difficult circumstances for their infinite creativity and resilience in doing so.
"I'm excited to be having a conversation with adults – I've been talking to pigs and chickens for the last six months."
Accompanying Blanchett on the press conference stage were festival director Alberto Barbera, Biennale president Roberto Cicutto, and fellow Venice jury heads Claire Denis (Horizons) and Claudio Giovannesi (the Luigi de Laurentiis debut filmmaker award).
The other members of the Venice juries were seated in the front row, including Blanchett's Competition jury of actors Matt Dillon (a late replacement for Romanian director Cristi Puiu) and Ludivine Sagnier, filmmakers Joanna Hogg, Veronika Franz and Christian Petzold, and writer Nicola Lagioia.
Cicutto said it was mid-May when Venice's programming team started watching films for this year's line-up, while Barbera expressed his guarded optimism that the festival will be able to unfold as planned.
"We know we will have many obstacles to overcome [but] we have started this film festival quite well," he said. "The pre-inauguration last night was a success. The weather is helping us, we hope it will stay sunny."
Focus on Blanchett
Blanchett fielded most of the questions from the assembled press, including one about her fears for the future that prompted her to say now was the time for the industry "to be courageous".
"Whether it's in a pandemic or not, every time one starts a project it always feels like the first day of school. All great projects have begun from ground zero, each time you make a work you have to risk failure.
"As an industry, we understand that challenge, it's in our DNA," she continued. "So if any industry is going to emerge more resilient, more creative, more inventive, it will be the creative arts and film industries."
Blanchett added that the pandemic had thrown up "deep questions" for the industry, not least the shift in the balance of power between exhibition and streaming.
"We're moving from a monoculture of streaming over the last six months, and so how do we reopen cinema will be a very important conversation to have.
"I think the outreach that festivals have – both virtual and in presence – will be a very important component because the challenge isn't just for Italian cinema, for Czech cinema, for Australian cinema, it's a global issue and as we re-emerge it really is a strong chance to robustly examine streaming technology and its implications on cinema and the way we view and make it."
Blanchett, who also headed up the Cannes Competition jury two years ago, revealed that she'd made her first trip to cinemas since lockdown the week before with her family to see Tenet.
Responding to a question about the Berlinale's decision to introduce gender-neutral awards for actors, she said: "I've always referred to myself as an actor – I'm of a generation where the word 'actress' was always used in a pejorative sense.
"I think a good performance is a good performance. The hardest part as artists is having to sit in judgment of other people's work, whether it's best film, best director, best actor, actress, or whether you've just got the one award for performance."
Denis added on the topic: "We could give the prize to somebody who played the role of a man or a woman who could be transgender. [But] this is not the debate we should be having. It's not about prize-giving – it's a bigger debate than that. I hope on the Horizons jury, we remain open, tolerant and free."